IMG Worlds of Adventure, a property of the IMG Group, is Dubai's first large-scale theme park that offers four spectacular adventure zones all in one place to guests from across the world. MARVEL and Cartoon Network are two of the four zones, while IMG Boulevard & the Lost Valley – Dinosaur Adventure zones are unique ideas developed by the IMG Group. With a floor space of more than 1.5 million square feet, IMG Worlds of Adventure in fact is the biggest temperature-controlled indoor theme entertainment facility in the world. The park, which can accommodate more than 20,000 visitors each day, offers a singular selection of exhilarating thrill rides, roller coasters, and spine-tingling attractions themed on well-known Cartoon Network characters, renowned MARVEL Super Heroes, and terrifying dinosaurs.
In addition, the location is home to several global firsts, a selection of specialized retail businesses, upscale eating establishments, and 12-screen state-of-the-art theatre. IMG Worlds of Adventure, which is situated inside City of Arabia along the Sheikh Mohammad Bin Zayed Road, is slated to become a must-visit worldwide location, providing the finest in family entertainment to Dubai's expanding leisure sector.
Journey into the Hidden Wonders of IMG World's Adventure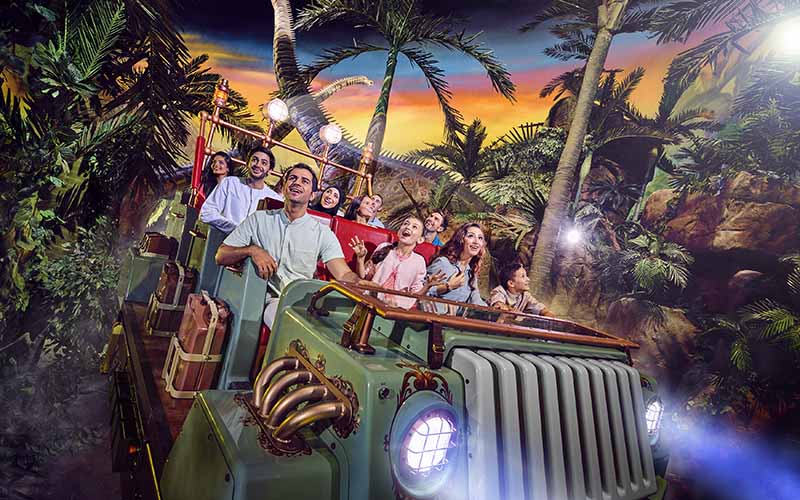 The IMG Worlds of Adventure provides a range of exhilarating rides, amusements, and immersive experiences. While some of the park's attractions are well-known, yet there are some undiscovered gems that you might not want to miss. So let's check out some exciting things to do at IMG Worlds of Adventure,
The Lost Valley: Dinosaur Adventure will transport you back in time during the age of the dinosaurs. Despite being somewhat concealed, it offers a fantastic immersive experience having life-sized animatronic dinosaurs, heart-pounding attractions like the Velociraptor roller coaster, and interactive displays that offer illuminating perspectives on the ancient age.
The Haunted Hotel– This is a creepy attraction hidden within the park that provides a disturbing experience to those that dare to enter. A tour in the form of a haunted home, it has creepy passageways, ghostly encounters, and scary special effects.
The Forbidden Territory– The Forbidden Territory, which is part of The Lost Valley, is a secret haven for adventurers. It is an exciting dark ride dubbed "Predator," where you go on a 4D jungle adventure and come across deadly monsters and unexpected turns.
The IMG Boulevard– The IMG Boulevard however is not precisely hidden, yet many tourists fail to notice it. It is the major entry to the park and has a lively environment with a variety of food options, interesting shops, and outdoor entertainment. Take your time looking around and taking in the vibrant atmosphere.
The Avengers Battle of Ultron– This exhilarating 3D motion simulator experience pits you against Ultron and his goons and incorporates well-known Marvel characters. Although it is not completely obscured, it is unquestionably a must-see sight for Marvel fans.
The Cartoon Network Zone– With a variety of family-friendly attractions, this area of the park is devoted to Cartoon Network characters. Although it is not obscured, it merits notice since it offers well-known rides with cartoon themes and engaging encounters with characters like The Powerpuff Girls, Ben 10, and Adventure Time.
The Novo Cinema– IMG World's Novo Cinema, which calls itself one of Dubai's most deluxe cinemas, makes going to movies feel like one of the richest experiences imaginable. With its butler service, private screens, and reclining leather chairs, the IMAX theatre provides a VIP experience unlike any other. It is also possible to book out the Novo Cinema for corporate events, however reservations are necessary well in advance.
The Carnivale– Despite being frequently disregarded, this area of the park has a fun, carnival-like ambiance. Here, you may discover a carousel as well as a variety of games and arcades. It is a terrific location to unwind, play some traditional carnival games, and enjoy time with loved ones.
The IMG Emporium– The park's gift shop is a well-kept secret that can be found close to the entrance. It provides a broad variety of related goods, such as apparel, accessories, collectibles, and toys, albeit it is not necessary an attraction. Spend some time browsing the store to locate one-of-a-kind mementos to commemorate your trip. IMG Boulevard stores stock up on souvenirs and delicacies to make sure you get something to cherish as a reminder of your vacation.
Meet and Greets– Do not pass up the chance of interacting with some of your favorite characters from Marvel, Cartoon Network, & other popular media. For character appearances, check the park's schedule, and take advantage of the fun encounters and picture ops. Activities at IMG World of Adventures allow you to discover more about the individuals who create your favorite TV programs.
Dine in Theatre– Have you ever hoped that your favorite Cartoon Network or Marvel characters would join you for a meal? Maybe have supper as a family while taking in a dinosaur show? It is your chance now! The chefs here use the freshest ingredients only to create outstanding cuisine in attractive, captivating settings. Look no more than Dubai if you are searching for a place to indulge in life's finest things. Your go-to place in Dubai for elegant, romantic meals is IMG World of Adventure. They provide the most unforgettable meals for you by using the finest ingredients and superior culinary methods. Your favorite Cartoon Network or Marvel heroes & villains will also be present to aid you on your journey.
Final Analysis 
When you take the opportunity to wander outside of IMG World of Adventure's most well-known attractions, these hidden jewels will provide a range of experiences, escalating the thrill factor. Your visit to IMG Worlds of Adventure will be even more exciting and varied thanks to these secret attractions. Do not forget in taking your time and stroll through the park and at your own speed, looking for secret nooks and enjoying the surprises that are in store for you. Hurry book your IMG Worlds Tickets today. You will not regret this that is for sure.