If you haven't been to IMG Worlds of Adventure in Dubai, you are missing out on some enticing rides, an amazing food scene, and a lot of fun experiences. The park is ideal for families, with kid-friendly zones and rides designed specifically to keep young ones entertained. With over 20 rides and activities in 4 theme zones, a spectacular meeting avenue and a breathtaking cinema experience, IMG Worlds of Adventure is the world's largest temperature-controlled indoor theme park spread across 1.5 million square feet along Sheikh Mohammed Bin Zayed Road. Besides enjoying rides and attractions, you can make your special occasions extraordinary by celebrating your events and birthday parties at IMG Worlds of Adventure. This short but comprehensive guide to IMG Worlds of Adventure will help you get an idea of what this fun theme park has in store for you.
What's inside IMG Worlds of Adventure?
Here is the list of the best things to do at IMG Worlds of Adventure.
MARVEL
The Marvel zone is the best for thrill-seekers and MARVEL fans since all of the rides are based on MARVEL characters. Some of the signature rides that are quite popular among visitors are:
Hulk Epsilon Base 3D


You can experience an adventure with this Avenger hero like you are really there with this state-of-the-art 3D simulated ride. The Hulk Epsilon Base 3D ride combines 360-degree projection screens with motion in sync to give riders the feeling that they are in the middle of an epic battle.

Thor Thunder Spin


One of the best adventure rides to enjoy at IMG Worlds of Adventure, this is a multi-seater revolving ride where the riders are caught in turmoil between Loki's mischief and Thor's attempts to rescue. Once the ride has ended, you will undoubtedly feel dizzy and elated.

Spider-Man Doc Ock's Revenge


An exhilarating rollercoaster ride that is full of dizzying descents, jolts, and spins 360 degrees as you find yourself in the middle of  Spiderman and Doc Ock's fight. If you like a good adrenaline kick, this ride is for you!

Avengers Battle of Ultron


Experience a virtual 3D simulator ride where you can help the Avengers fight Ultron. This ride is ideal to enjoy with the whole family including the kids. It is an excellent way of seeing Iron Man, Thor, Black Widow, Hawkeye, Captain America, and the Hulk in action as they face the evil Ultron.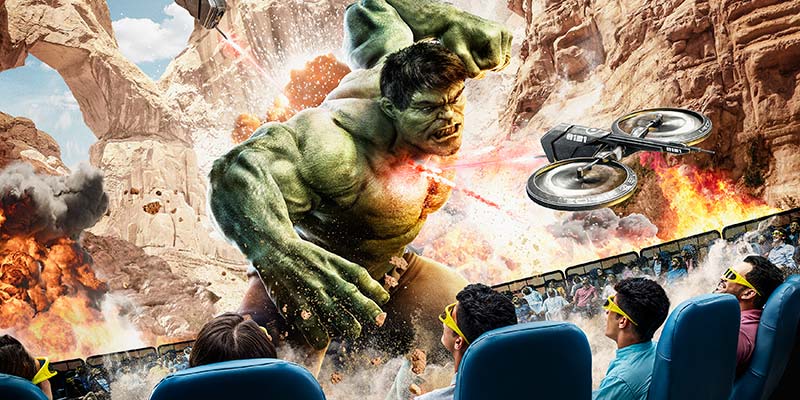 Cartoon Network
Featuring cartoon characters like Powerpuff Girls and Ben 10, the rides at Cartoon Network are perfect for children. Some great experiences to check out are:
The Powerpuff Girls – Mojo Jojo's Robot Rampage!


The theme of this amusement ride is based on Powerpuff Girls of Cartoon Network and is designed with a slow start turning into a high-speed thrill.

Ben 10 5D Hero Time


A multi-sensory experience for kids and adults alike, this 5D experience lets you witness an adventure with Ben10 as if you are truly a part of it.

Lazy Town


A fun place to enjoy time with your family and friends, Lazy Town has adventure climbing activities and obstacle courses. There is however an extra charge per person for this attraction, which must be pre-booked since it allows only a few visitors at one time.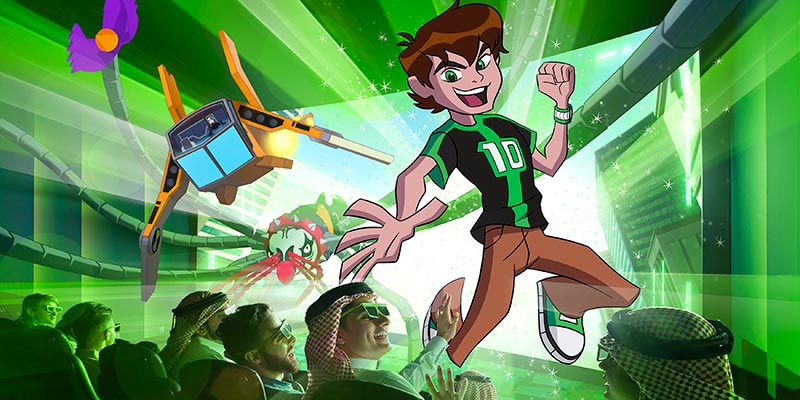 Lost Valley – Dinosaur Adventure
In this zone, you will be transported back to prehistoric times, when dinosaurs roamed the earth freely. The Lost Valley is best known for some of the most adrenaline-rushing rollercoaster rides to enjoy in Dubai. This zone is peppered with animatronics of various dinosaurs and some fantastic rides that you ought to check out if you love a good thrill.
Velociraptor


Blast off and zoom through a 1-kilometre long rollercoaster ride at a speed of 100 km/hr! This rollercoaster is the only ride that zooms outdoors before returning back into the indoor theme park.

Forbidden Territory


As you explore the Forbidden Territory in the dark, you will encounter prehistoric giants while having a thrilling jungle safari experience. More than 40 animatronic installations and special effects make this a truly immersive experience while you travel through an uncharted wilderness full of rugged and unexplored terrain.

Predator


Another extreme rollercoaster ride at the Lost Valley, this exhilarating ride has a vertical drop, twists, and loops, ensuring that riders get nonstop emotions of being thrilled and terrified the entire time.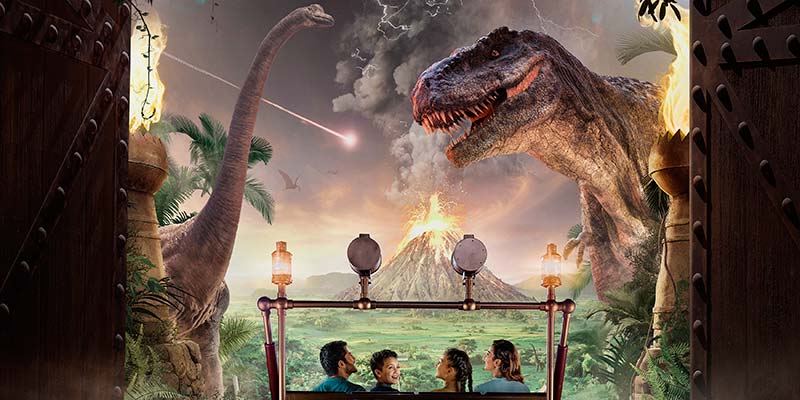 IMG Boulevard
The ultimate place to shop and dine inside the park, IMG Boulevard is set near the entrance, surrounded by the other adventure zones, and is a common meeting spot where you can take a break from the excitement, chill, and relax. There are a variety of dining venues available that tantalize your taste buds and ample outlets to shop for souvenirs. If you are above 15 years of age, you can also explore the Haunted Hotel for some spooky thrill. It is the ultimate haunted attraction in Dubai.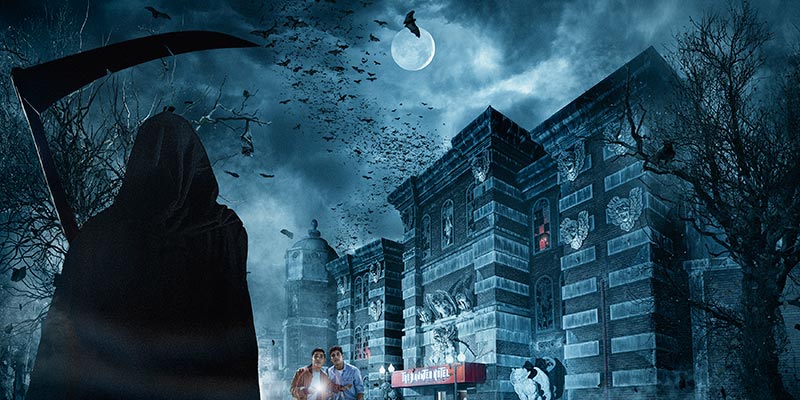 NOVO Cinemas
Best for a luxury movie experience, NOVO Cinemas offers laid-back relaxation at plush lounge areas and has a 12-multiplex complex with VIP features such as having a personalized butler service. It takes the movie viewing experience to a whole new level with state-of-the-art screens and has the largest IMAX with Laser in the Middle East. The whole ambience inside NOVO Cinema exudes futuristic vibes.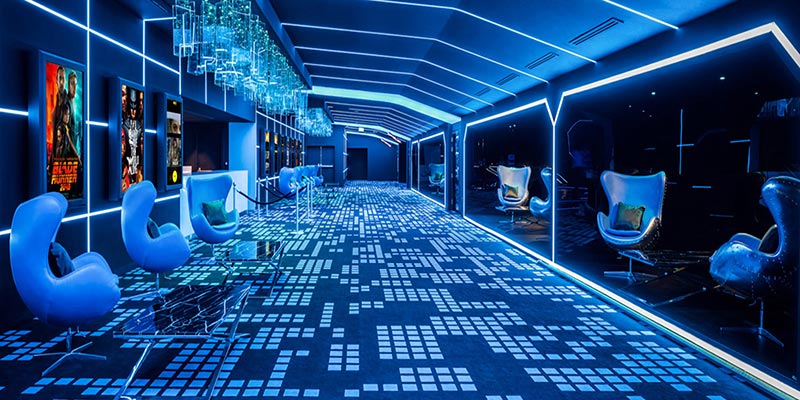 Best time to visit
IMG Worlds of Adventure is an indoor theme park open 365 days a year. So anytime is a good time to visit this fascinating attraction. However, the rush during the weekends can be overwhelming and quite hectic especially if you are visiting with kids. For the best experience, go early in the morning during the weekdays to avoid crowds and also to spend more time exploring the attraction.
How to reach
IMG Worlds of Adventure is located at E311, Sheikh Mohammed Bin Zayed Road, next to Global Village. It is around 30 minutes away from Dubai International Airport, Dubai Downtown, and Dubai Marina by car. If you are arriving by metro, the nearest station to disembark is the Mall of the Emirates station. From the metro station, you will have to take a cab to reach the attraction.
IMG World Timing and Admission Ticket Price
IMG Worlds of Adventure is open daily from Sundays to Wednesdays from 12 pm till 8 pm and Thursdays to Saturdays from 12 pm till 9 pm. The operational timings can change during public holidays and Ramadan month. A general admission ticket will cost around AED 325 per person.
Essential tips and do's and don'ts at IMG Worlds of Adventure
Since it is the pandemic times, not just IMG Worlds of Adventure, but every other attraction in Dubai follows the Covid-19 safety rules and regulations and all visitors are required to abide by them.
Pre-book your tickets online and arrive at the park early before the park gets too crowded. This way, you also get ample time to enjoy all the IMG theme park's rides and attractions.
Whether you can enjoy a park ride is determined by height rather than by age. So, do make sure to check the height restriction before lining up in the queue for a particular ride. Also, some rides are not suitable for pregnant women, differently-abled visitors, and those having motion-sickness or triggers to flashing lights. Choosing which rides to enjoy that suit you and your group will surely make the experience hassle-free and smooth to experience.