Dubai is the most perfect holiday destination in the world, known for its skyscrapers, ports, and beaches. It's the most adventurous and populous city in the UAE. Though it's well known for its beauty, it offers more than glitz and luxury. It's also become a preferred choice for adventure seekers and holidayers and you'll always get to see something new in this evolving city. This city always has something to bring excitement and adventure you must experience. 
Skydiving
Select from a Gyrocopter or Tandem flight and feel the rush of the free fall of more than 120 miles per hour while skydiving in Dubai. Also, you get the best views of Palm Island, Dubai Marina, and JBR Beach. 
After a crash-course by a certified instructor, you'll head to the drop zone at Desert Campus or The Palm and board the plane. Then you'll be suited up with a helmet, goggles, jumpsuit, and a harness. As the aircraft reaches 13,000 feet, you exit the plane. You'll experience the free fall for 60 seconds before the instructor pulls the cord for the parachute. Amazing experience!
Timings: 
Thurs to Mon – 5am to 12pm
Tues – 5am to 1pm
Wed – Closed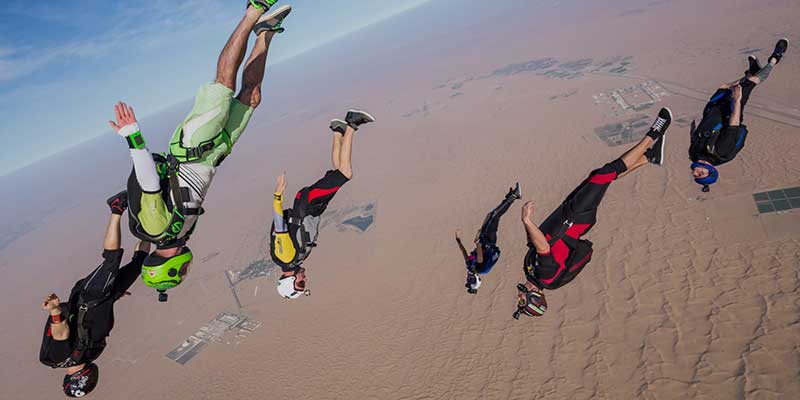 Jebel Jais Zipline
The Jebel Jais Zipline gives an exciting experience of the tallest mountain in the UAE. With a whopping 2830 meters in length, Jebel Jais Flight is the world's longest zipline. Get ready for this high-flying adventure as you head to Al Khaimah, which is just 2 hours from Dubai. 
Following a safety briefing session and putting on the safety harness and gear, launch Superman-style along the steel lines at a speed of 120-150 kph for approximately 3 minutes. 
Timings: 
Wed to Sun – 9am to 4pm
Mon and Tue – Closed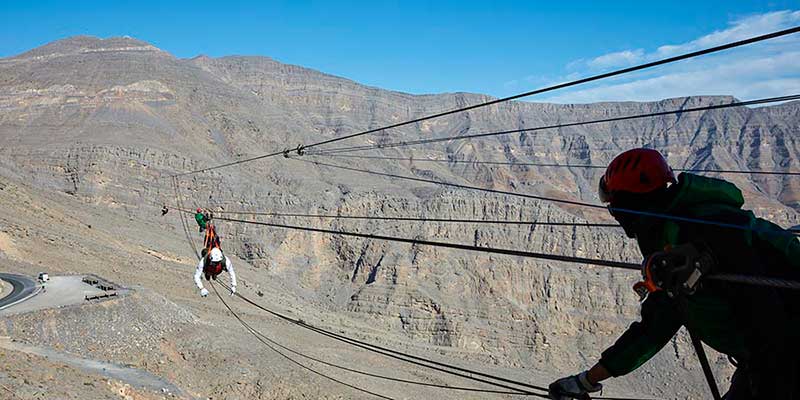 XLine Dubai Marina
It is the longest urban zipline in the world. With two cables next to each other, you can enjoy the ride with a friend or spouse. 
The team provides safety instructions and helps you fit into the safety equipment. Soak in the aerial views of the Dubai Marina, Palm Jumeirah, and JBR Beach. Featuring a 16-degree inclination, it travels at 80 km per hour, which is among the fastest zip line experiences. The 1-kilometre-long ride extends from the Amwaj Tower to Dubai Marina Malls terrace. 
Anyone who is 12-65 years of age and healthy is allowed and the adventures also includes videos and images which capture the epic moments from your zipline experience. 
Timings: 
Wed to Mon – 3.20pm to 6.20pm
Tuesday – Closed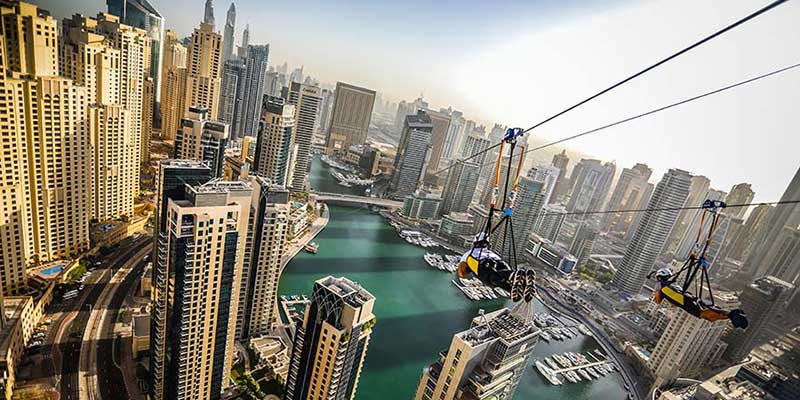 Flying Cup Dubai
Flying Cup Dubai is very different from the usual dining experience. It offers a sky-high setting. You can dine with an amazing bird's eye view of Dubai. Get comfortable on the pedestal dining platform with a seat attached to a table. 
Once you're strapped in with a belt, the table is hoisted 40 meters up in the air with an enormous crane. For about one and a half hours, you can relax in your comfy seat and enjoy the view of the city as the table rotates gently, giving you an unobstructed 360-degree view of Ain Dubai, Burj Al Arab, and the entire Bluewater Islands, Dubai Marina, Palm Jumeirah, etc. 
It has 22 diners maximum, plus an expert 5-member staff onboard, and offers an intimate setting to savour the finest snacks, meals, and drinks. 
Timings: 
Opening Hours – 3pm to 10pm (Everyday)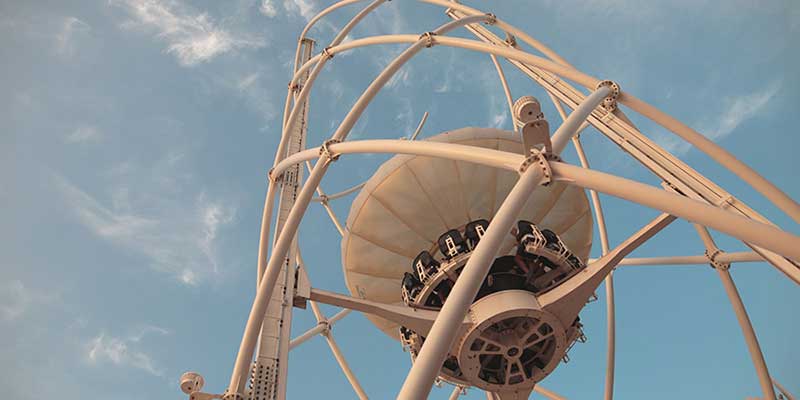 Ekart Zabeel
Ekart Zabeel is the country's first indoor, state-of-the-art, go-kart facility. It is located at the Zabeel Extension in the Dubai Mall, the biggest mall in the world. 
The vast space has 11 electric high-performance go-karts that are environmentally friendly with zero emissions. This enormous track caters to everyone from a beginner to an expert. All who are above 14 years, 140cms tall, and weigh less than 120 kgs are allowed. 
The first thing you'll go through is a safety briefing and be provided with protective gear, including a racing suit, helmet, etc. Also, the kart records your driving performance. It tracks the lap time and you can share it online as well. 
Timings: 
Opening hours – 10am to 11pm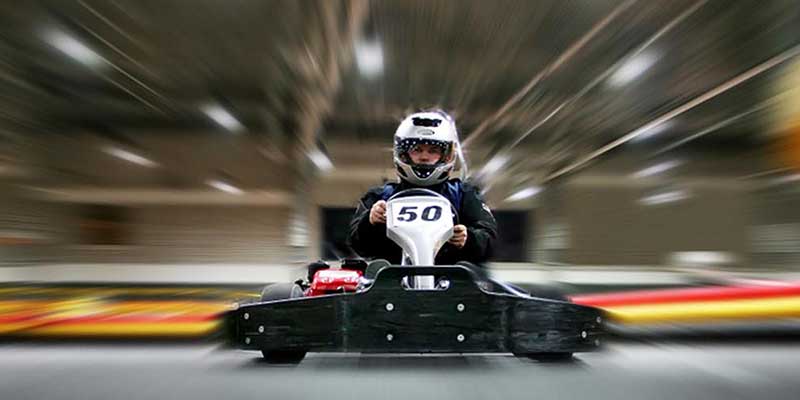 Deep Dive
Deep Dive contains 14.6 million litres of freshwater, equivalent to 6 Olympic swimming pools. Guided by ambient music and lights, divers can enjoy table football and other games, explore the abandoned sunken city, or soak in the vegetation. The oyster-shaped structure is a tribute to the tradition of pearl diving in the UAE. 
Timings: 
Wed to Tues – 6am to 6pm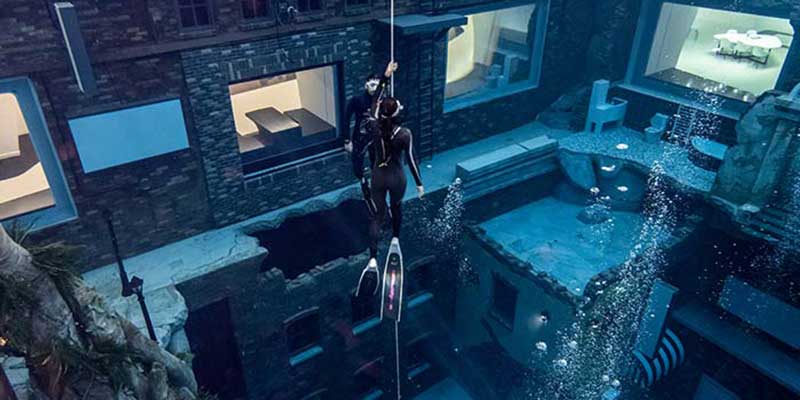 Desert Safari
The morning safari and dune bashing is a thrilling adventures. You will enjoy awesome dune bashing for 20 minutes from experienced drivers who drive rugged 4X4 vehicles for an exhilarating experience. Later, you can head back to the camp and there are other options like quad biking, sand skiing, and camel rides. 
Timings: 
8.30am to 11.30am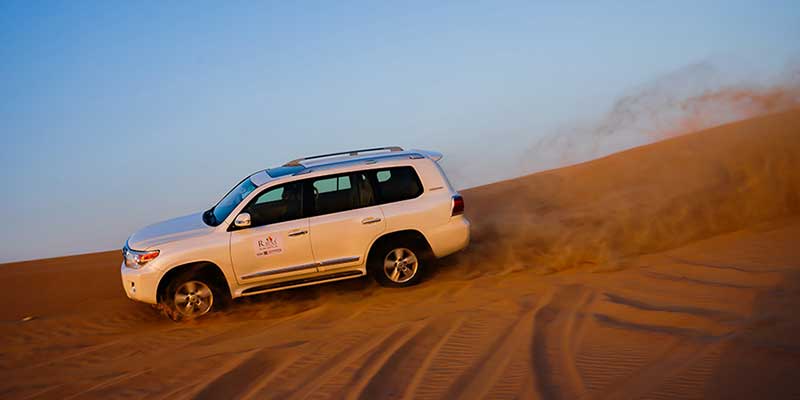 Dubai's adventure activities are amazing experiences with an awesome atmosphere and ambiance. With so many fun adventures, you'll definitely have an adrenaline rush!