When visiting Dubai, skydiving must top your bucket list, as it is one of the best adventure activities in Dubai! Professionals and first-timers alike can enjoy the best experience here. Skydive Dubai provides tandem skydiving experiences especially for beginners and first-timers. While skilled skydivers can fly solo if they have their license and certification, tandem skydiving is the best option in Dubai. It provides security & comfort to know that the expert skydiving teacher attached to your back manages the whole drop and landing.
Skydive Dubai has two main drop zones: the Palm Drop Zone & the Desert Campus Drop Zone. The complete experience should take between 3-4 hours at both locations, so plan on spending a large portion of your day at the drop zones. Dives begins as early as 9:00 a.m., allowing you to schedule your day accordingly.
Beginners are given roughly 30 minutes of guidelines and instructions to follow before each tandem skydiving. You will then be carried up in a small plane, where you will leap out with your tandem instructor. After around 60 seconds of free fall at 120 miles per hour, your tandem jump instructor will drop the parachute and you can happily glide back to Earth. This landing should take approximately 5-7 minutes.
You may also enjoy a fantastic journey in a gyrocopter & admire Dubai's magnificent sun-kissed skyline.
Facts about Skydive Dubai
H.E. Nasser Al Neyadi founded Skydive Dubai in 2010. It has now turned into the world's premier skydiving venue. There are presently two drop zones at the venue:
Dubai Desert Campus
Palm Jumeirah
How to Get to Skydive Dubai Drop Zones?
Palm Dubai Drop Zone:
Within Dubai — Palm Dubai is easily accessible by car or metro. It is a 25-to-30-minute drive from the Bur Dubai & Deira.
Take Exit 32 off E11 the Sheikh Zayed Rd from Abu Dhabi or Sharjah
Drop Zone at Desert Campus:
Within Dubai, you can hire a cab to the drop zone. It would take between 20 and 40 minutes, depending on your location in Dubai.
Take E11 from Abu Dhabi/Sharjah (Sheikh Zayed Road). Take the E11 exit and merge onto the E66. You will go several kilometres on E66. Please be advised that the Desert Campus exit from E66 is marked with the Skydive Dubai sign.
Skydive Dubai Types
Indoor Skydiving Dubai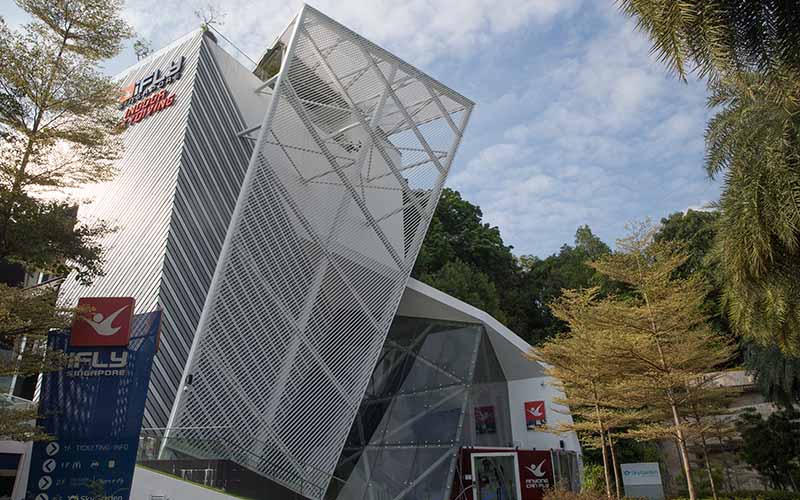 Indoor skydiving simulates outdoor free-fall conditions within a vertical wind tunnel. This form of skydiving never entails an open area, the wind, the sun, or scenic drop zones. It uses a wind tunnel to create intense air gusts that lift you above earth. Indoor skydiving is amid the best activities in Dubai for getting acquainted to the idea of skydiving. This is mostly true for anyone who has not yet experienced their first skydive. Indoor skydiving provides all of the exhilaration of skydiving sans any of the risks. It is the finest of both worlds since you get to skydive in a safe and regulated atmosphere. Furthermore, indoor skydiving is far less expensive than outdoor skydiving. Indoor skydiving is definitely the way to go, if you are short on time and do not want to spend it on skydiving lessons. Because this sport is less dangerous than outdoor skydiving, you can get started quickly. Furthermore, even children over the age of two can participate in indoor skydiving, making this sport more accessible to children. iFly Dubai has the world's first ever double vertical wind tunnel. It is here where you can feel weightless while the adrenaline rushes through your body.
Outdoor Skydiving Dubai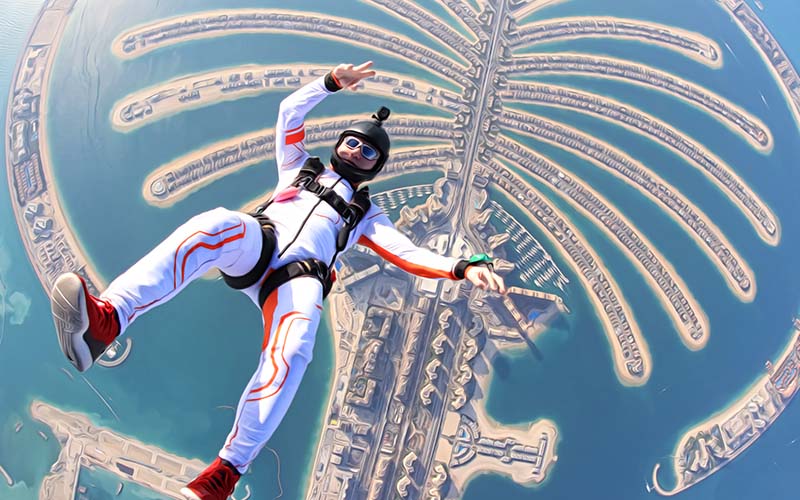 Outdoor skydiving, or 'real' skydiving as it is called, consists of jumping out of an aeroplane at a tremendous height. Whether you're a first-time tandem skydiver or an experienced, licenced skydiver flying solo, you'll take off from some of Dubai's most scenic locales. Tandem Skydive Dubai and Professional Skydiving, are the two types of outdoor skydiving.
Best Time to Skydive in Dubai
From April to October, Dubai gets sunlight and dry heat, whereas winter, which includes occasional rains, lasts from November to March. In the event of rain, your dive may be postponed or cancelled. The months of October to April are great for skydiving in Dubai since the climate is pleasant with a mild wind during the day.
Choosing a morning time for a skydiving experience is ideal for getting the best views of the city and taking unforgettable photos.
What to Wear During Skydive?
Skydivers should dress comfortably in sports gear such as trousers, track pants, and t-shirts. To avoid getting caught in the parachute, avoid wearing loose clothing. Wear sneakers instead of sandals or slippers.
Health Requirements to Try a Skydive
To skydive in Dubai, women must weigh lesser than 90 kg while men must weigh less than 100 kg. Women's BMI must be less than 27.5, while men's BMI must be less than 30.
Ideal Age to Skydive
Anyone above 18 years of age can try skydiving in Dubai. Those aged 12 to 18 will be permitted only if accompanied by a parent or legal guardian.
The Experience at the Skydive Dubai
Take a ride through the world's first ever double vertical wind tunnel. Then, utilizing strong air conditioners and fans, you are lifted 3 metres into the air. All of this is done while the tube is protected by acrylic glass. The experience is backed up with a freewill simulation & cutting-edge facilities that will offer you the sensation of skydiving in real life.
Medical Conditions
If you have /have previously had, any of these conditions mentioned below, you must complete a form of Declaration of Fitness. Before you take the leap, you must have this signed by a doctor.
Any present or past medical conditions
Alcohol or drug addiction
Mental illness
Diabetes
Recurrent weakness
Dislocated shoulder/other limb(s)
Lung or heart disease
High blood pressure
Disease of the nervous system or the brain
Giddiness or recurrent blackouts
Severe head injury
Fits
Epilepsy
Others
Most importantly, pregnant women are highly prohibited to take the skydive.
In short, Skydive Dubai has increased in popularity because to its world-class facilities, scenic skydive destinations, and top instructors. So go give it a try.