IMG Worlds of Adventure in Dubai is transformed each October into a thrilling Halloween wonderland. The park's annual Festival of Fright delights and terrifies guests with haunted houses, scare zones, shows, rides and more. It's the ultimate way to celebrate the spooky season in Dubai.
Arriving at the Park
As soon as you enter the park in the last two weeks of October, the Halloween spirit surrounds you. Pumpkins, spiders, skeletons, and other creepy decorations adorn the streets. Fog slowly creeps along the ground, lights flicker ominously, and foreboding music plays over the loudspeakers. Guests are dressed up in creative costumes ranging from princesses to superheroes to scary ghouls.
The park stays open late into the night, so you can experience all of the haunted attractions as darkness falls. The elaborate theming and creepy ambience set the mood for a fun and frightening day.
Haunted Houses
One of the main highlights of the festival is the horrifying haunted house experiences. Area 26 is an ultra-terrifying haunted house that sends guests down dim, fog-filled corridors filled with disturbing scenes. Ghosts, zombies, deranged clowns, and more jump out when you least expect it. With detailed sets and special effects, it feels like you're trapped inside a nightmare.
The Extreme version ratchets up the scares even more. Just entering Area 26 gets your heart racing! Other haunted houses offer different terrifying themes, from a rickety old mansion to a creepy carnival. These immersive walk-through attractions are not for the faint of heart!
Scare Zones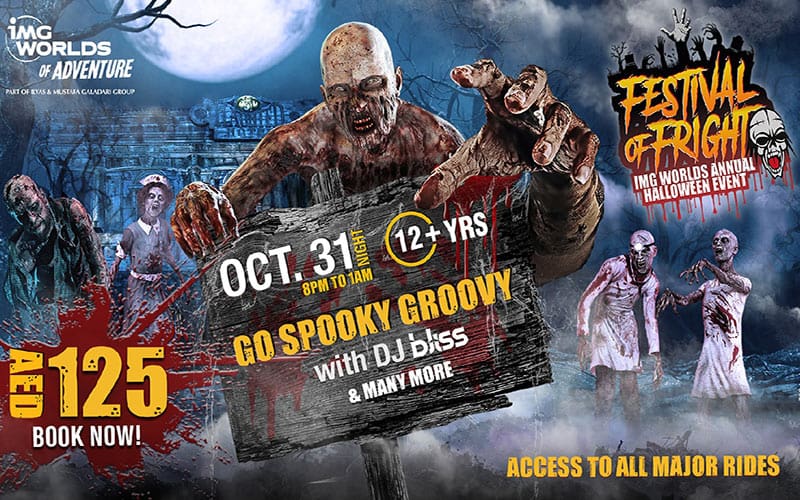 Throughout the park, different themed scare zones transform ordinary areas into sinister places. In the ominous Dark Forest, werewolves and other beasts lurk in the foggy woods. The Alien Attack Zone makes you feel like you're inside an alien spaceship with lizard-like extraterrestrials ready to attack. No matter where you walk, you'll encounter new frights from creatures blending into the shadows. These elaborate scare zones make it so nowhere in the park feels safe from the horror.
Shows & Entertainment
In addition to the thrills, Festival of Fright features shows and entertainment for some added Halloween fun. The Fright Light Parade kicks off each evening, with dancers, stilt walkers, floats and more making their way through the park to creepy music. You can catch a magic show with a sinister magician sawing someone in half or a dance party with creepy characters busting their best undead moves. A DJ spins spooky tunes to keep energy and spirits high. These shows, parades and parties make the event feel like one big Halloween celebration.
Attractions & Rides
The rides at IMG Worlds also get a Halloween makeover for the festival. The Haunted Hotel ride becomes even spookier by putting you in a rickety elevator that plunges 13 stories in the dark. The Predator roller coaster has alien creatures trying to grab you as you speed by. Even usually family-friendly rides like the Marvel Adventure are transformed by adding sinister villains.
The park's world-class rides become even more thrilling with the added theming and effects. Screams of delight mix with screams of pure terror as you experience rides in a new horrific light.
Trick-or-Treating
Younger guests can take part in the fun with a Trick-or-Treat Trail throughout the park. Kids dressed up in creative costumes walk the trail going door-to-door at stations manned by ghosts, zombies, witches, and other ghouls who hand out candy. It's a cute way for families to enjoy the spirit of Halloween together. With all the rides, shows and haunted houses geared towards adults and teens, the Trick-or-Treat Trail offers something just for kids.
Food & Beverage
To fuel up after all that screaming and walking, IMG Worlds offers special Halloween-themed food and drinks. You can grab sweet treats like blood-red candy apples, monster doughnuts, or pumpkin spice churros. Savory options include monster burgers, hot dogs with creepy toppings, and mummified chicken wings. For adults, there are creepy cocktails like the Poison Apple garnished with a glowing syringe. Sipping tentacle soda or eating a burger with bone-shaped pickles adds to the spirit of the event.
As the Night Falls…
As closing time nears, the park becomes even scarier with roaming zombies, ghosts and ghouls coming out in full force. These terrifying creatures emerge after dark to lurk in the fog and look for victims. Only the bravest guests will stay until the very end when the park closes past midnight. As you make your way to the exit, with creatures following close behind, you'll feel your pulse racing with fear and excitement.
Final words
The Festival of Fright at IMG Worlds of Adventure delivers thrilling and eerie experiences suitable for those aged 12 and older.  With haunted houses, shows, character experiences, rides, and theming, it's an immersive way to celebrate Halloween. For those looking for a terrifyingly good time, it's the perfect place to encounter frights around every corner. The park pulls out all the stops to deliver a memorable and spooky Halloween event.