Many people often associate Dubai with its glistering heat that can be unbearable sometimes, especially during the peak summer months. However, you have plenty of destinations where you can escape the heat and stay cool and hydrated in this beautiful Emirate. You do not want the extreme temperatures to hinder your Dubai vacation. Whether you are looking for the best indoor activities Dubai offers or some cool outdoor destinations that will relieve you from the scorching sun, Dubai has something special to uncover. Here are the top 10 places to stay cool in Dubai.
IMG Worlds of Adventure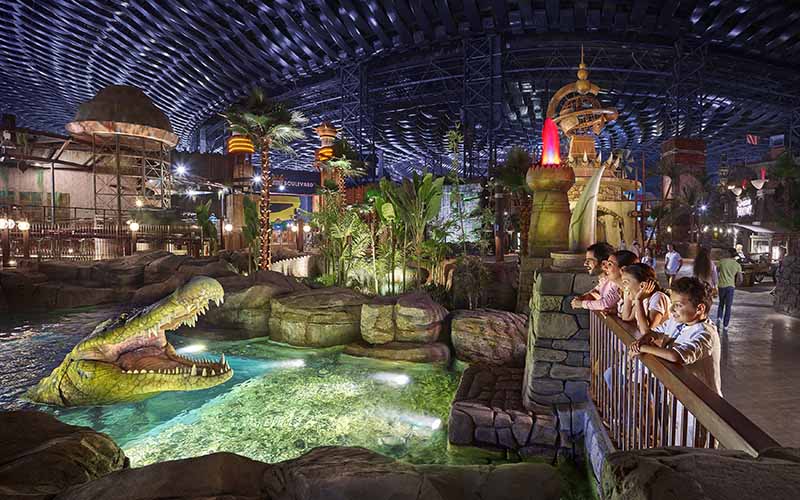 Welcome to the biggest indoor theme park in the region that is temperature-controlled to suit its visitors. You can maximize your time at a theme park like IMG Worlds of Adventure with a wide range of theme-based activities. Explore the amazing attractions inspired by popular characters from Cartoon Network, Marvel, and more. Unleash the child in you and let your little ones have a blast as you enjoy thrilling rides, live shows, and plenty of other theme-based fun. You can also enjoy some culinary delights at the various dining options or fulfill your shopping desires at the shopping experiences inside.
Aquaventure Waterpark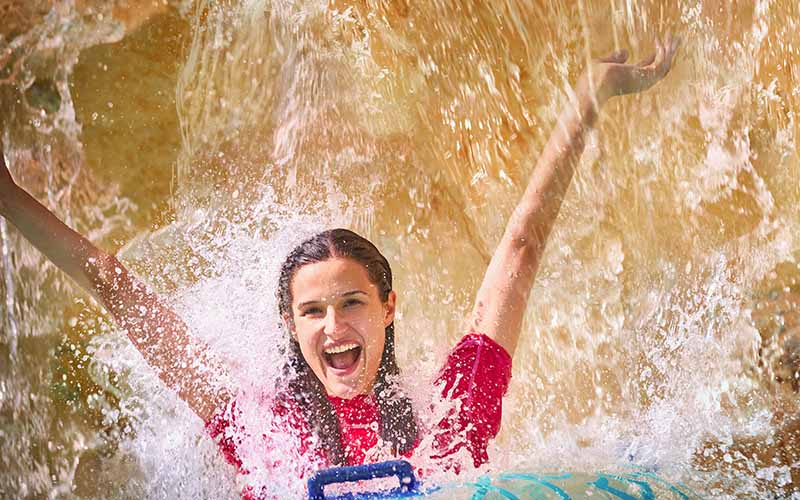 The splashing waters of the Aquaventure Waterpark are a good way to beat the scorching summer heat in Dubai. Maximize your time at a theme park by indulging in thrilling water slides, spending some time at the private beach, or enjoying the ambiance by a lazy river. With a dedicated kid's area, you can surely bring your little one and get guaranteed fun and entertainment for them as well as cool off your heels. It easily ranks among the best indoor activities Dubai has to offer.
Chillout Ice Lounge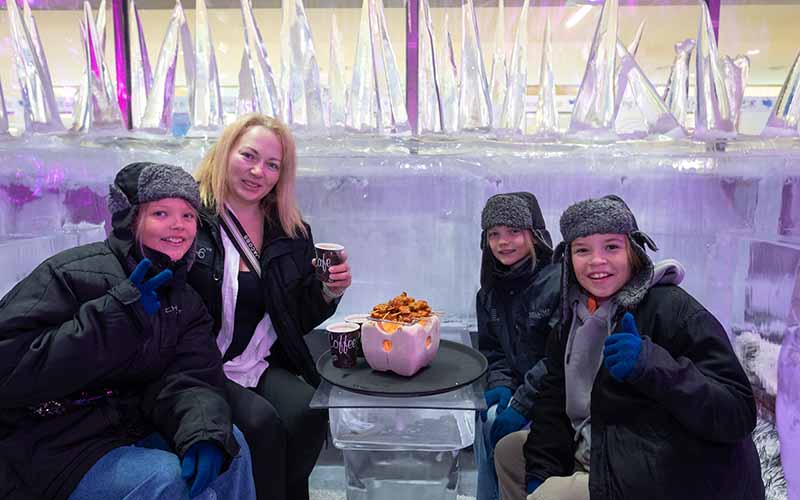 Unique and the first of its kind in the Middle East region, the Chillout Ice Lounge offers a unique experience like never before. The entire interior, from the walls to the furniture, is built using ice. Maximize your time at a theme park like the Chillout Ice Lounge as you immerse yourself in this icy world. As you browse past the various ice structures, you can round it out with a hot chocolate or a cool mocktail—the perfect recipe for a hot, lazy summer afternoon.
Dubai Aquarium & Underwater Zoo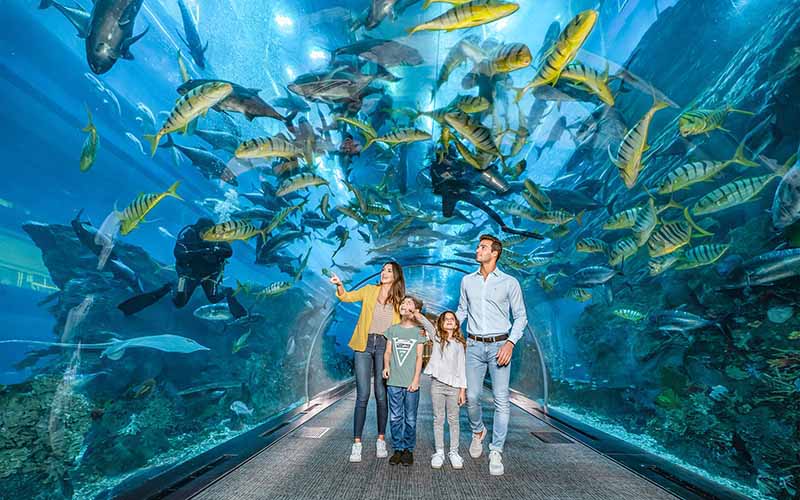 This indoor within the colossal Dubai Mall boasts over 33,000 marine creatures, featuring over 140 species of marine creatures. See giant groupers, sharks, and sting rays, among other colorful marine life, swim around the gigantic 10-million-liter tank, giving you astonishing insights into aquatic life. The inside temperatures are maintained at an optimum cool temperature that gives the ideal respite from the extreme summer heat. Try cage snorkeling or diving with the dangerous sharks if you are in for some extreme adventure.
Dubai Dolphinarium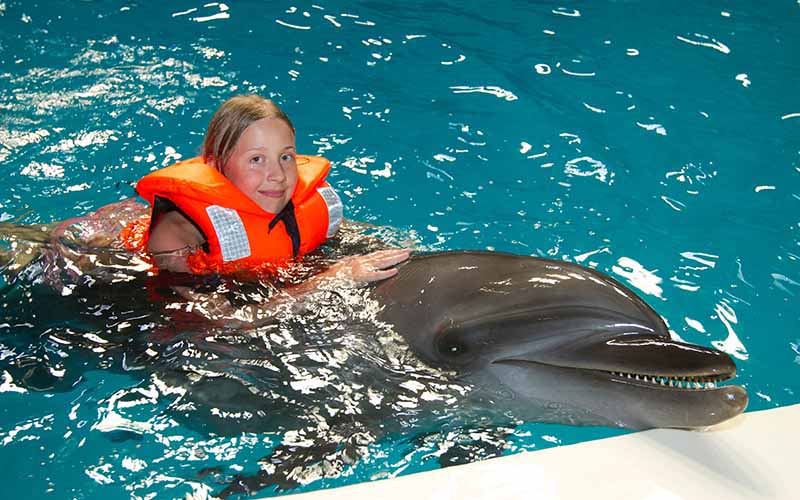 The in-house and ultra-friendly dolphins and seals in the Dubai Dolphinarium offer the perfect rationale to divert your attention from the scorching sun. There are interactive shows arranged with these friendly marine animals, sure to captivate the audience. Enjoy an unforgettable experience as you witness fabulous stunts, amazing acrobatics, and several educational demonstrations about these friendly marine creatures.
Dubai Ice Rink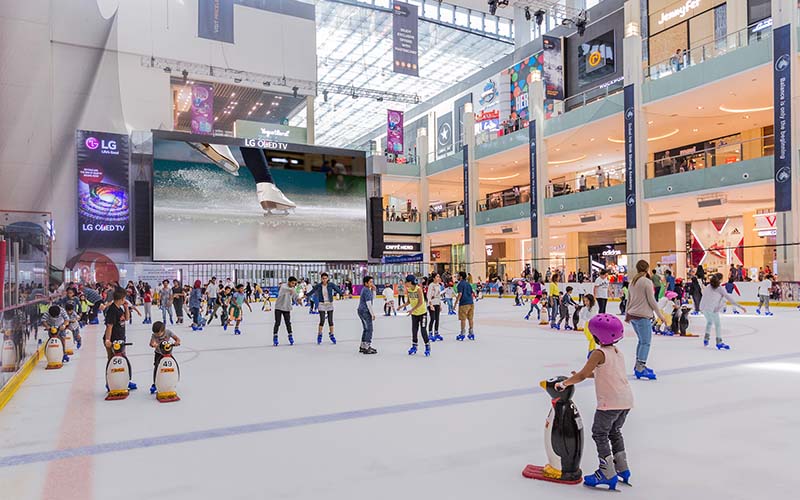 A ski paradise for ice-skating enthusiasts is placed in the Dubai Mall. One of Dubai's best indoor activities, the Dubai Ice Rink is the perfect recipe for respite from the scorching heat. This Olympic-size ice rink is maintained at a comfortable temperature for the public accessing the facility, ensuring they do not feel cold inside. Enjoy or indulge in activities like ice hockey, skating, and ice-skating mentoring lessons for all levels and age groups.
The Dubai Mall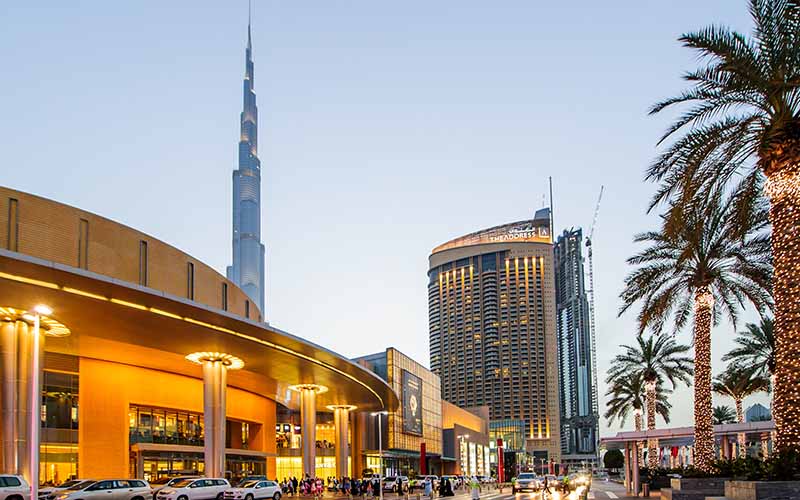 The largest shopping mall worldwide offers various shopping options, fun, entertainment, adrenaline-pumping activities, and culinary delights. The air-conditioned interiors let you escape the extreme summer heat while indulging in a shopping spree. There are 1200+ retail outlets and stores that include high-label brands, gigantic bookstores, and electronic stores, along with several food and beverage stalls, giving you the best day outing and among the best indoor activities Dubai offers.
Ski Dubai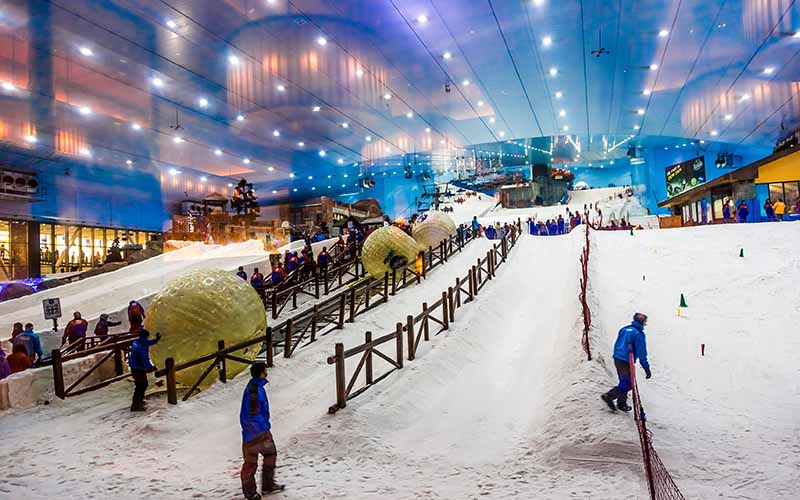 This indoor ski resort is a winter wonderland, irrespective of the temperature outside. It's located in the Mall of the Emirates and spans 22,500 square meters, with almost five ski runs of varying difficulty, a snow park, and a freestyle snowboard zone. The temperatures are maintained at -1oC. If that doesn't create turbulence in your mind, you can have fun interacting with the in-house penguins in the penguin encounter zone. Ski Dubai is your answer if you are looking for the best indoor activities Dubai offers.
The Green Planet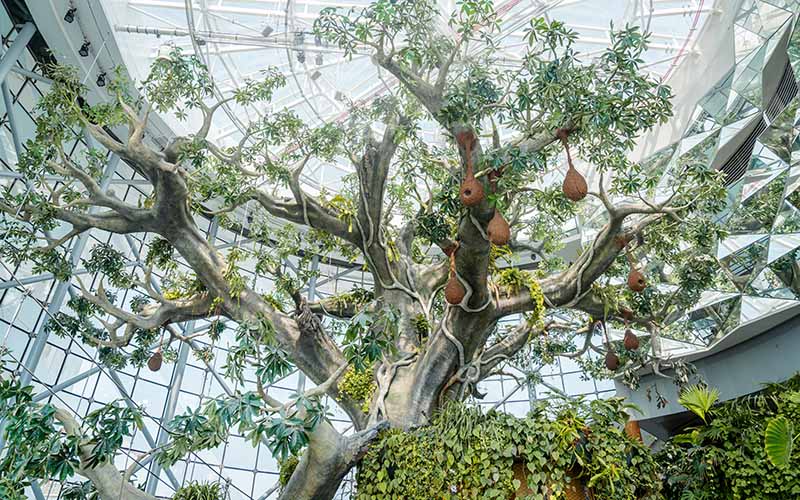 This indoor attraction in the City Walk features nearly 3,000 beautiful plants and animals, including a wide variety of tropical fish, sloths, and toucans. The temperatures inside are maintained at an optimum level per the outside temperature to keep you comfortable and relaxed. This bio-dome has recreated a tropical rainforest ecosystem right in the heat of the Dubai Emirate. Browse posts about exotic plants, birds, and animals as you discover fun facts about them.
Conclusion:
Dubai may have one of the most extreme temperatures during the summer season. But that doesn't displace the incredible destinations where you can explore the best of what Dubai offers. From water parks like the IMG Worlds of Adventure to fabulous indoor ski resorts like Ski Dubai, and from aquariums to ice lounges like the Chillout Ice Lounge, there is something in store for every age group and to match the taste of each global traveler.