You do not have to stay at home beneath the air conditioner just because Dubai experiences oppressive heat during the summer. Plan an amazing summer to create unforgettable memories as the city is now filled with a ton of intriguing indoor activities. These are among the top indoor activities and the best things to do in Dubai, regardless of whether you desire to challenge your athletic prowess or even wow the family with a fun adventure.
Must Try Indoor Activities in Dubai During Summer
Air Maniax
Bounce off the walls at Air Maniax, Dubai's multi-activity indoor play area, rather than at home. The largest zone of Air Maniax is an inflatable arena for all ages, measuring 23,000 square feet. The rigorous obstacle courses, zip line, and laser tag game will appeal to fitness enthusiasts, and the color-coded, sensor-activated wristbands are an extra bonus that let individuals with a competitive streak compete against their friends to obtain the highest scores.
Bounce
At Bounce, an indoor trampoline park committed to the practice of defying gravity, you may put your trampoline talents to the test. Bounce, which has sites in Al Quoz and Al Ain, combines parkour with trampolining. Participants can "free jump" in whatever direction they choose, and the indoor trampoline park contains a ton of activities for both young and older children. The sky is the limit when it comes to what you can do on the performance trampolines, whether you want to go vertically up a wall, bounce back on the large free jumping area, or anything else (or climb the roof of its building, at the very least).
Café Ceramique
This location gives the best of both worlds if you enjoy art and eating equally. Diners have the option to paint and create anything they like, such as a conventional cup or miniature porcelain creatures. After being fired in the kiln, your painted items can be picked up in a week. A good reason to go back.
Countdown Challenge
Do you enjoy figuring out puzzles? Is fleeing from a room up your alley for the afternoon? The JBR Countdown Challenge is the event for you if so. Five different indoor escape rooms are available, each with a different level of difficulty, and one even has actors to further enhance the experience.
Dubai Aquarium and Dubai Underwater Zoo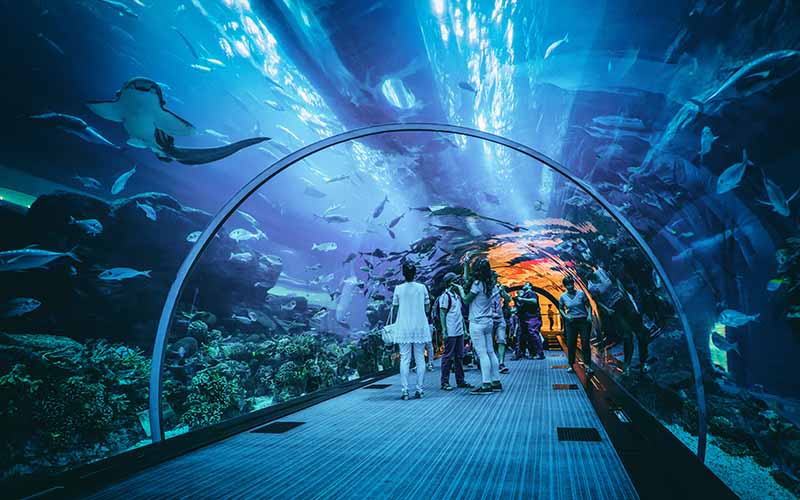 At the Dubai Aquarium & Underwater Zoo in Downtown Dubai, you can experience the true thrill of the wild while getting up close to some of nature's most stunning species. Take on a shark encounter, where you will be dropped into the depths of the aquarium tank (within a cage) as about 300 of the wonderful animals crowd surrounding you in preparation for the feeding time. You can even get to know the aquarium's resident crocodile, which measures more than five meters long and weighs 750 kilograms. It is thought to be one of nature's rarest occurrences. If that seems a little overwhelming, you can take in the wonder of the piranhas, crabs, water rats, and throngs of fish that live in the enormous tank within The Dubai Mall.
Dubai Bowling Center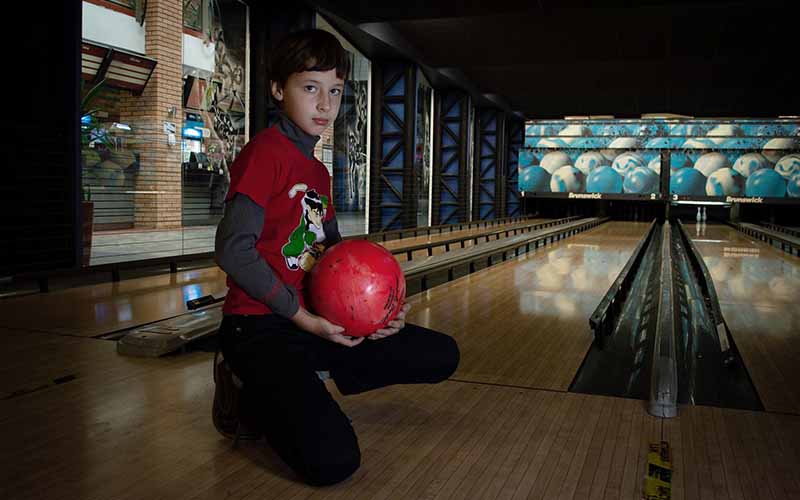 One of Al Quoz's most recognizable structures, the Dubai Bowling Center, got a complete renovation in 2019 that nodded to bowling's heyday in the 1980s. There are 16 lanes that are of truly professional caliber for keeping the enjoyment of bowling every day & night. Additionally, if you get tired watching your friends & family members compete at the time of their turn, you can easily divert your focus to the great movies being projected on projectors. The attraction has areas for free-jumping, dodgeball, basketball, aerobics, an e-gaming area, and classic games like pool and ping pong.
Dubai Frame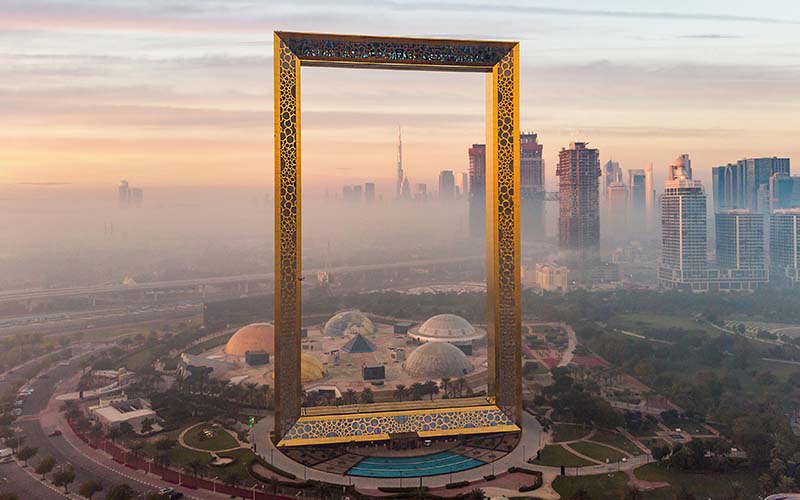 With its cool vantage point, guests can take an hour-long tour and get a unique look at both the "old" and the "new" Dubai from a 150-meter-high sky glass bridge that is both indoors and fully air-conditioned. The Dubai Frame comprises two 150-meter-tall towers that are connected at the summit by a 93-meter bridge.
Dubai Ice Rink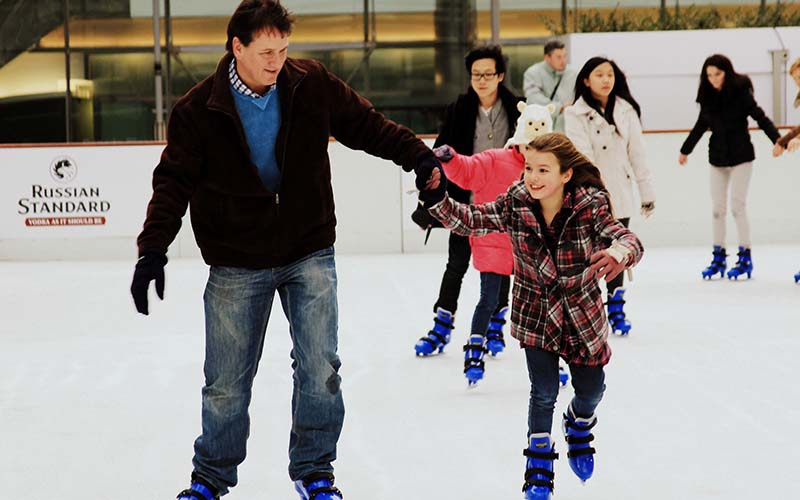 There is just one method for guaranteeing that things cool down immediately when the outside temperature becomes a little too high. Visit the Olympic-sized skating rink at The Dubai Mall in Downtown Dubai. On Dubai's most well-liked ice rink, people of all ages may move around, have fun, and improve their skating. Additionally, it is a fantastic justification for dusting up your winter clothing. Your chilly fantasies will come true thanks to the artificial snowflakes that are falling from the rooftop of the mall.
Dubai Kartdrome
Would you like to channel your inner Lewis Hamilton? The Dubai Kartdrome in Dubai Motor City offers both indoor and outdoor circuits for riders aged seven and up, and with a winding 1.2 km track with 17 turns (although six, seven, and eight can be completed at full speed and with one swift grip of the wheel), it is the region's best place to go karting. Put the meta pedal to the metal now.
Infinity des Lumieres
Infinity des Lumires is an immersive, interactive art display that has gained worldwide acclaim. The primary goal of the Infinity des Lumires summer exhibitions is to present future art in a future metropolis. Both shows draw inspiration from Dubai life and focus on the technologically advanced features of the development of the city: space and data. As a tribute to the UAE's accomplishments in space, the Mohammed Bin Rashid Space Centre (MBRSC) and the French CNES worked together to develop the digital art spread titled Destination Cosmos. Through a multi-sensory experience where guests are asked to feel, experience, and co-create, Dubai Data connects the audience with the art.
IMG Worlds of Adventure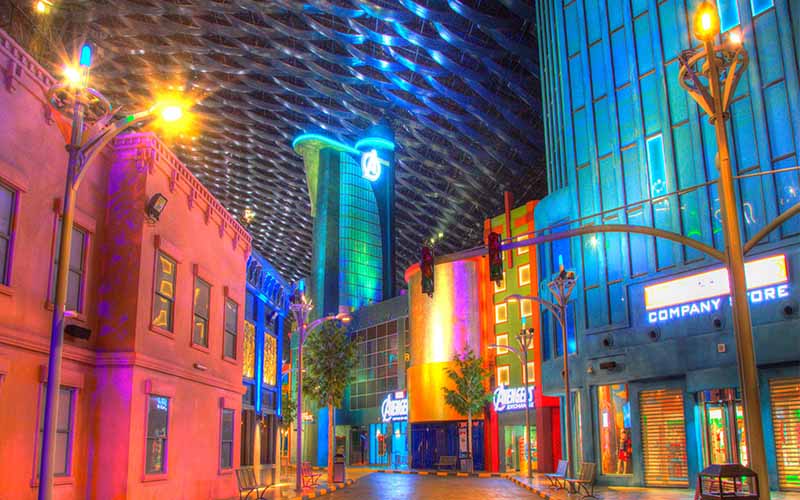 One of the best theme parks in Dubai, the IMG Worlds of Adventure is the largest indoor theme park in the world with an area of 1.5 million-square-foot. IMG Worlds of Adventure in Dubai is home to some rather impressive rides. With thrilling rides, entertaining films, fantastic dining options, and retail attractions in a vast area divided into four adventure zones, the goal here is unquestionably enjoyment for everyone. In The Marvel Zone, thrilling rides are shared by a stellar cast of superheroes, including Spider-Man, Iron Man, The Hulk, Thor, & The Avengers. The excitement carries over to Lost Valley, where extinct animals come to life for an amazing day out. There are many more adventures to get your adrenaline pumping.
iFly Dubai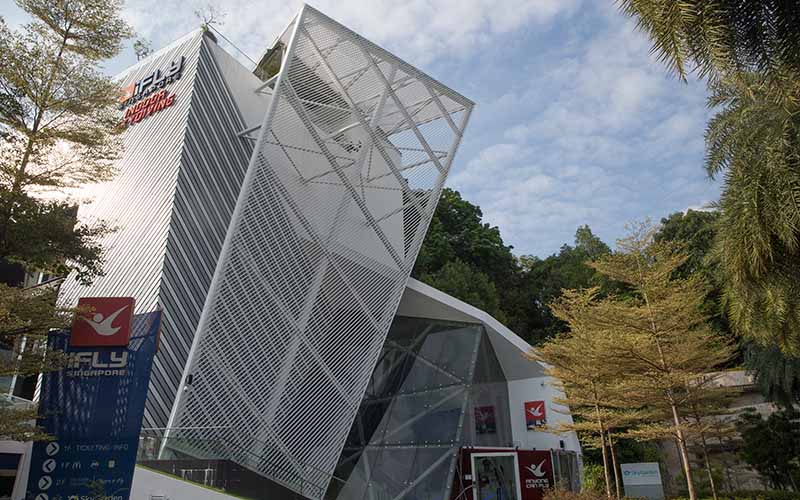 If you decide that you really want to experience weightlessness but that leaping off of a plane with Skydive Dubai is too daunting for you, your only choice is iFly. Jets of wind will launch you into the air when you put on a special suit, enter a 10 meter inside glass tunnel, and attempt to do aerial tricks.
Museum of Illusions
iFly is your only choice if you decide that leaping out of a plane in Dubai is too terrifying but that you really want to experience weightlessness. Put on a special suit, go into a 10 m indoor glass tunnel, and wind jets will launch you to the air so you may attempt aerial tricks.
The list of best indoor activities to try in Dubai does not end here. It also includes OliOli museum, Parkour DXB, Ski Dubai, Storm Coaster, Street Maniax, The Green Planet, The Smash Room, Thejamjar, VR Park Dubai, and others. So what are you waiting for? Dubai calling!!