Dubai city is a shopper's paradise, catering to all tastes and budgets. Dubai's retail industry intermingles shopping at charming traditional souks and street outlets with massive luxurious malls that house world-famous brands and exquisite designer boutiques. The retail experience in Dubai never fails to disappoint any traveler. The city's malls have cafes, restaurants, movies, and spas to recharge your batteries before continuing your shopping binge. The best places to shop in Dubai for the ideal shopping experience are listed below.
1) The Mall of Emirates
The Mall of Emirates houses over seven hundred shops that include the world's largest Apple store, Harvey Nichols and Debenhams, Dolce & Gabbana, Bvlgari, and Dior, to name a few. Ski Dubai is one of the mall's biggest draws. Escape the heat of the outside sun to experience a winter wonderland featuring an 85-meter-high mountain with five runs, a snow park, a chairlift, and a snow bullet zipline. Enjoy tobogganing, skiing, sliding down the icy slopes, and zorbing in this ski resort. It also houses the King and Gentoo penguins; visitors can enjoy watching and catching up with these charming birds as they swim, walk, and play in a setting that mimics their natural habitat. There is also Yalla! Bowling, Magic Planet, and VOX Cinemas for visitors to enjoy.
2) The Dubai Mall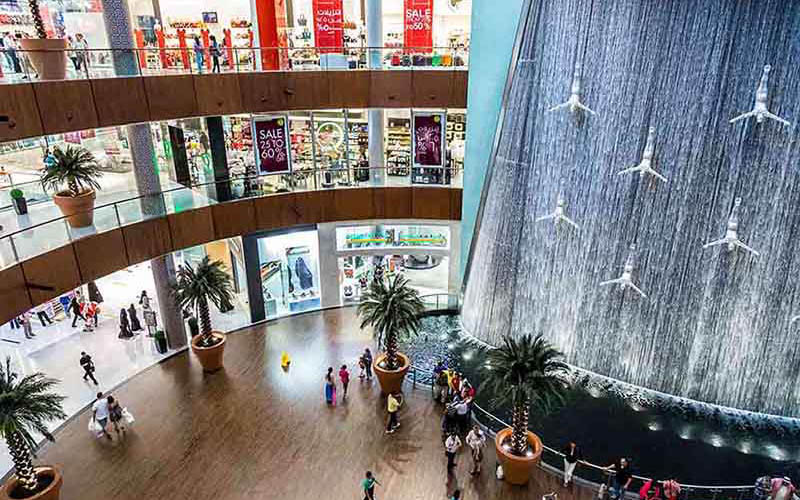 The Dubai Mall, the world's largest and busiest retail and entertainment complex, is located in the heart of Downtown Dubai. The Dubai Mall is a massive 1.1 million square meter shopping center in a new urban complex built around an artificial lake, with over 1,200 stores, 160 food and beverage outlets, and 22 cinema screens. Apart from a wide array of high-end shopping brands like Chanel, Armani, and Gucci, visitors have numerous entertainment opportunities, such as the Dubai Aquarium & Underwater Zoo, an Olympic-sized ice-skating rink, Kidzania, Dubai Fountains, and many more. Chocolate lovers should go to Hershey's Chocolate World, while candy lovers should go to Candylicious.
3) Ibn Battuta Mall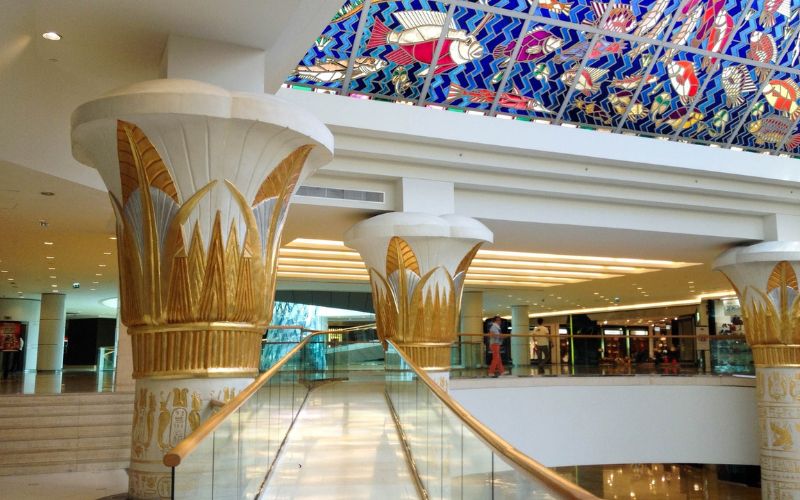 Ibn Battuta Mall, located on Sheikh Zayed Road in the Jebel Ali hamlet, is named after the 14th-century Moroccan adventurer Ibn Battuta. Again, one of Dubai's largest shopping malls, the mall is organized into six Eastern-inspired areas – China, India, Egypt, Andalusia, Tunisia, and Persia – and has about 275 shops. These sections depict the regions visited by Battuta and include several exhibits from these locations. The Chinese courts have an exhibition center that hosts a variety of cultural activities. Visitors can have fun at the Sky Zone,a trampoline play court, and Switch Bowling.
4) Wafi Mall
Wafi Mall, an Egyptian-themed mall, is one of Dubai's oldest malls. The structure has three pyramids that bring natural light to the mall throughout the day. The mall houses around 300 luxury and high-street stores, including numerous well-known international brands such as Versace, Jaegar, Graff, Chanel, Etoile la Boutique, Chopard, and many more. There are also many restaurants, pubs, and cafes. Try the Lebanese hotspot Wafi Gourmet and Biella, an Italian cafe and pizzeria. Explore the Khan Murjan Souk for Arabian handicrafts and artistic treasures across the Middle East. Head to Cleopatra's Spa for a relaxing session of hydrating facials and hot stone massages.
5) Bur Juman Centre
The BurjumanCenter is one of Dubai's oldest shopping malls, and it's a great place to shop without breaking the bank. You can shop for brands like Matalan, Splash, Next, H&M, Sharaf DG, Brands for Less, and The Toy Store. Another USP of this mall is that it is home to the only outlet on Saks Fifth Avenue. The Carrefour supermarket on the ground floor is a favorite among visitors. There are many dining and entertainment options too. There is a cinema and family entertainment center, Magic Planet, where children can have a fun time with the games and rides. The open courtyards and pavilion gardens are a favorite hangout zone in the mall.
6) Meena Bazaar
One of the oldest shopping places in Dubai is the Meena Bazaar, often referred to as "Bur Dubai's Little India", which greets you with colorful shops and the aromas of incense, perfumes, and spices. Taste the local food, purchase souvenirs, and shop for traditional dresses. It is a haven for fashionistas, with shops selling raw silk, cashmere, pashmina, pure silk, and wool fabrics. This marketplace is a favorite of locals and tourists alike. You can bargain and get good deals on products. After a tiring day exploring the market, do visit the many restaurants serving Indian cuisine with a combination of Arabic spices.
7) IMG Worlds of Adventure Shopping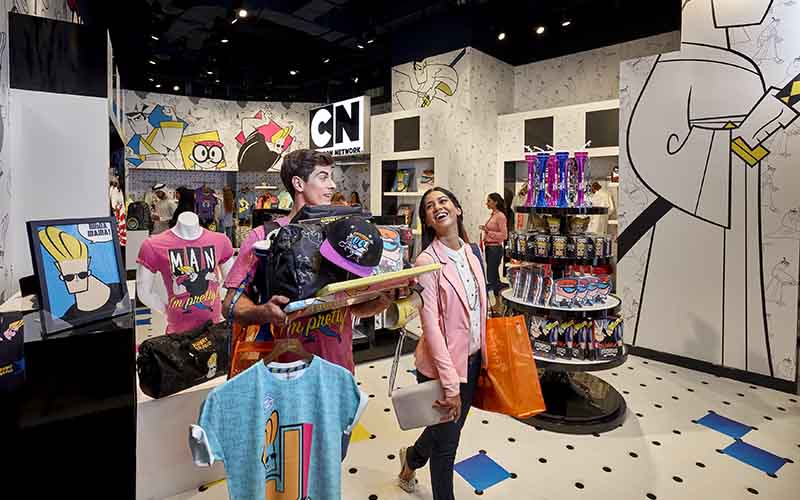 One of the shopping destinations for kids is IMG Worlds Shopping. The IMG world shops, which house themed merchandise outlets, are popular with children. The Lost Valley zone has shops selling miniature dinosaurs and egg decorations. The Avengers Exchange outlet in Marvel Zone is the only Avenger merchandise store in the Middle East, while Empire News and Comics have the biggest collection of superhero comics. At Cartoon Network zone, you will find all your favorite Cartoon Network characters, from Ben 10 to Dexter and the Powerpuff Girls. Grab a painting from the Haunted Hotel Store at IMG Boulevard to take back home. To prevent waiting in long queues, buy your IMG Worlds of Adventure Dubai tickets in advance.
8) Souk Madinat Jumeirah
Souk Madinat Jumeirah transports you to the Middle East version of Venice. It features endless entertainment, shopping, and food outlets across its meandering streets. This area has about 75 shops, bars, restaurants, cafes, nightclubs, and a theatre, making it one of the best places to shop in Dubai. Browse for fragrances, exotic spices, fine-quality fabrics, designer clothes, and colorful lanterns at the Arabian marketplaces, then walk through the bazaar for souvenirs to take home. If you are staying at one of the Jumeirah hotels, take a traditional wooden boat from the waterfront to one of the restaurants or boutique shops. Located close to Jumeirah Beach, you may hire a beach buggy to visit Dubai's iconic 6-star hotel, The Burj Al Arab. For a stunning experience, explore Souk Madinat Jumeirah at night.
9) Deira Gold Souk
The Gold Souk is a traditional Arabian bazaar packed with alleyways and businesses selling eye-catching gold jewelry and rare stones fashioned into ornamental things. A trip to Dubai would be incomplete without a visit to the famous Gold Souk. The souk contains over 300 stores and at least 10 tons of gold jewelry, including necklaces, rings, and bangles. Deira Gold Souk is the best place in the UAE to buy gold due to its legality, low prices, and massive selection of jewelry. Dubai boasts low taxes and prices that are competitive with the rest of the world.
10) Dubai Spice Souk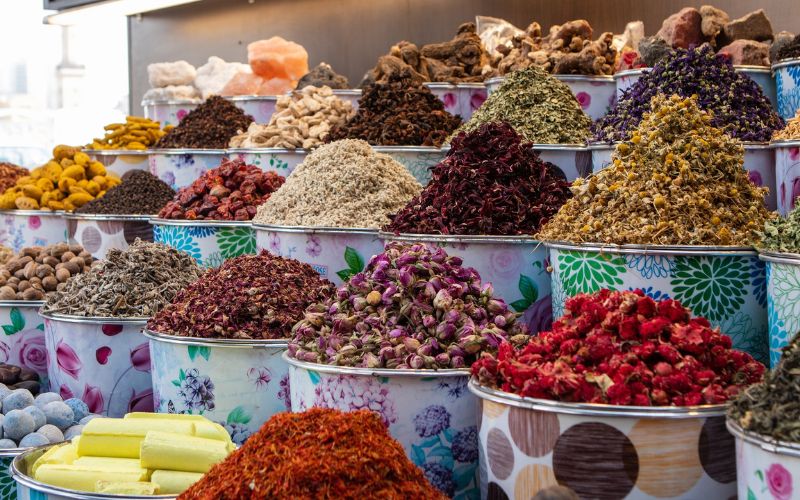 The Dubai Spice Souk, a long-standing bazaar in the heart of the old town, was founded more than fifty years ago. It is next to the Gold Souq and is also referred to as the Big Souk, the Deira Old Souk, and the Deira Spice Souk. The aroma of spices fills the area, which sells practically every kind of spice and herb used in Arabic and South Asian cuisine, ranging from kitchen aromas to medicinal herbs and the highest quality dried natural items to hair oils. There are chilies, twisted yellow turmeric root, ginger, cumin, cloves, paprika, sumac, and uncommon spices like mace, sunflower seeds, high-quality saffron, and nutmeg.
11) The Outlet Village
The Outlet Village, Dubai's favorite retail and fashion shopping destination, is an outlet mall with over 100 fashion and lifestyle companies. The Outlet Village is unlike any other shopping mall. It has the appeal of an ancient European marketplace, adding to the enjoyment of shopping here. You may get practically everything here at astonishing costs, from fragrances and cosmetics to garments and fashion accessories by renowned worldwide companies. Hence, if you want to fill your bags with the latest collections from Adidas, Roberto Cavalli, Aldo, Police, and many more brands at low costs, The Outlet Village is one of the top shopping destinations in Dubai.
12) ARTE, The Maker's Market
ARTE, The Maker's Market, is where Dubai's creative minds can advertise themselves and sell their wares. Every Friday, this market is held at several sites across the city. Miriam Walsh established this market to provide a venue for artisans to sell their goods. Interact with more than 150 passionate designers or makers and browse from a range of contemporary handcrafted products by these 'Artisans of the Emirates (ARTE)'. Stores provide a variety of handicrafts, skin care products, jewelry, accessories, candles, paintings, and baked goods (pastries, loaves of bread, and cakes). Have a tasty croissant with Arabic coffee while watching people haggle over their favorite work of art.
13) The Global village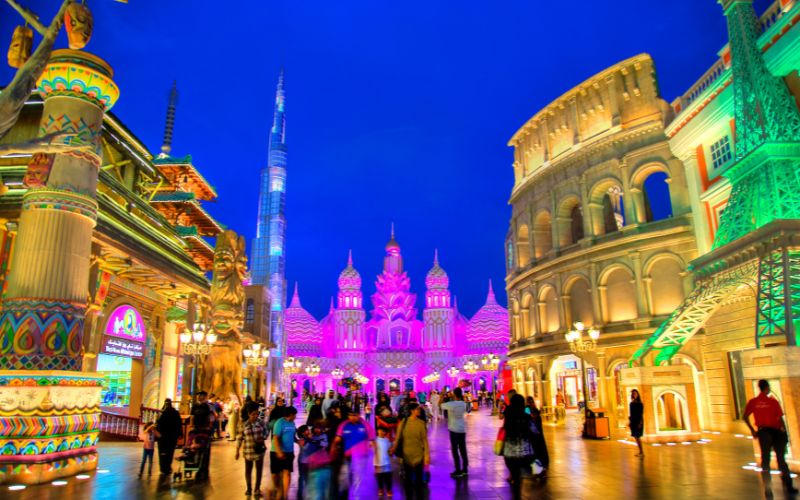 The Global Village is a multicultural festival park with the nation's largest shopping arena. It takes place in an open-air theme park every year, making it a family destination to experience diverse cultures and entertainment shows. This entertainment and retail attraction is open every 161 days from November to April and includes over 70 participating nations, exhibited in 36 pavilions, with more than 50 exciting rides and 26 restaurants serving cuisines from around the world. Each pavilion depicts the country's culture through the toys, food, technology, clothing, antiques, jewelry, carpets, etc. available there. Besides shopping, visitors can enjoy live performances, concerts, street shows, and international cultural events. Families and children may visit Fantasy Island and enjoy the rides on the Ferris wheel and rollercoaster.
Every souvenir, artwork, sartorial item, or memento, no matter how little, celebrates the art and tradition of that particular region in its unique manner. The ideal time to visit Dubai is between November and March when the temperature is mild. Around this time, the Dubai Shopping Festival is held, where tourists may take advantage of fantastic discounts and offers on various items. Shopping during Ramadan in Dubai also offers a unique experience, as most malls and souks remain open until late at night. At the end of your Dubai visit, you will go home with more luggage than when you arrived. So, Happy Shopping!