The holy month of Ramadan is here, and Muslims around the world fast from sunrise to sunset during this month. Muslims believe that it was during this month that the Quran was revealed to Prophet Mohammed. The United Arab Emirates, being an Islamic country, considers Ramadan to be extremely important. It is a non-tourist season as well, as several activities are restricted during this month. However, unlike popular opinion, Dubai is not completely subdued during Ramadan. In fact, you can have a different kind of experience, especially if you visit Dubai with family and kids during this holy month. Here we present eight activities you should try during Ramadan in Dubai.
1. Visit the Mosques
The mosques are a crucial part of Islamic culture, and it is a good idea to visit a few of them during Ramadan. While there are numerous mosques in Dubai, non-Muslims cannot visit all of them. One of the most popular mosques in Dubai that opens its doors to the public is the Jumeirah Mosque. One of the most photographed monuments in Dubai, the Jumeirah Mosque is the epitome of Islamic architecture. Free tours are available here, which will give you detailed information not just about the architecture but also about the Islamic culture.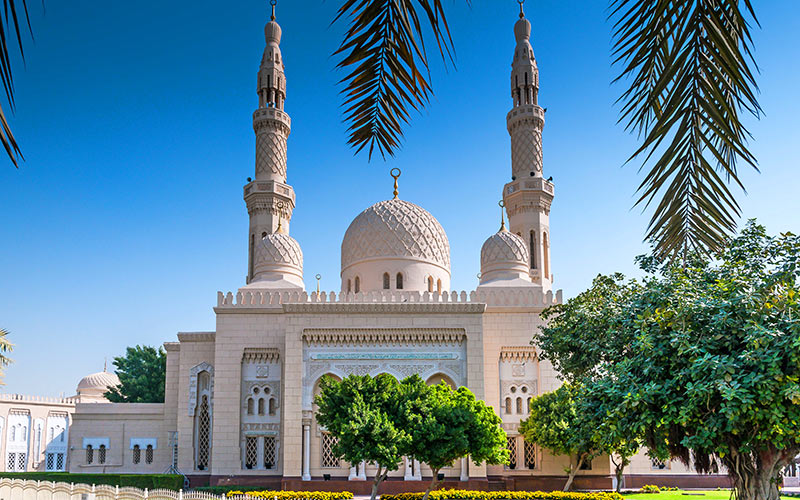 Apart from this, you can also visit Al Farooq Oman Bin Al Khattab Mosque, Imam Hussein Mosque, etc. If you do not mind traveling outside Dubai, visiting the Grand Mosque in Abu Dhabi and Al Noor Mosque in Sharjah will be a good idea. Remember that you should dress conservatively while visiting mosques in the UAE. Moreover, do check out the visiting hours, as the tour timings of mosques may change during Ramadan.
2. Go on a Shopping Spree
Dubai is synonymous with shopping, and this stays true even during the month of Ramadan. Several shopping malls and department stores offer discounted rates and deals during Ramadan. One place you must visit during this month is the Ramadan Night Market. Located at the Dubai World Trade Center, this is a 10-day market where you can buy all kinds of things, including apparel, footwear, homeware, electronic items, handicraft items, jewelry, souvenirs, etc. You will get to see and buy numerous items created by local artisans here. Apart from shopping, you can look forward tasting delicious food at the Ramadan Night Market. You will also find play areas, workshops, and fun activities for kids here.
3. Be a Part of Cultural Tours
Ramadan is a great time to learn about the culture and heritage of Dubai by going on cultural tours. If you want to know what lies beneath the glitzy and glamorous surface of Dubai, head to the Al Fahidi Historical District, also known as the Bastakiya Quarter. This is the oldest part of the city, and several monuments from the past are still preserved here.
One of the most important places here is the Dubai Museum, which is located inside the Al Fahidi Fort, the oldest building in the city. A museum tour will enlighten you on how the Emiratis lived in the past. Other than these, there are several other art galleries, traditional homes, and cafes here. If you want to go on a heritage tour, visit the Sheikh Mohammed Centre for Cultural Understanding (SMCCU), which organizes tours and sessions where visitors get to know about the local Emirati culture and traditions. The SMCCU organizes special events and sessions during Ramadan for those interested.
4. Have an Adventurous Time at the IMG Worlds of Adventure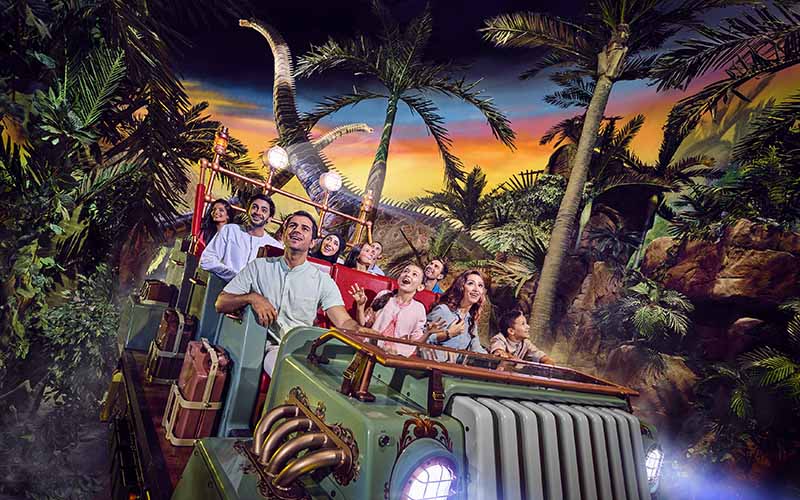 Ramadan is a great time to visit the theme parks in Dubai, mainly because the crowds are less, and you do not have to wait in queues for a long time. If the heat of this month bothers you, one place you can go is IMG Worlds of Adventure, the world's largest indoor theme park. The IMG Boulevard is where you enter this theme park. It connects you to the park's other zones: Marvel, Cartoon Network, Lost Valley (with dinosaur-themed attractions), the Haunted Hotel, and the IMG Kids Zone.
Each zone has rides, rollercoasters, games, and activities as per its theme. You will also find retail stores and restaurants in each zone. The IMG Worlds of Adventure is also home to Novo Cinemas, where you can catch the latest blockbuster. An important thing to remember is that IMG World timings may be altered during the holy month. So, check the website for timings before you book your tickets.
5. Explore the Shopping Malls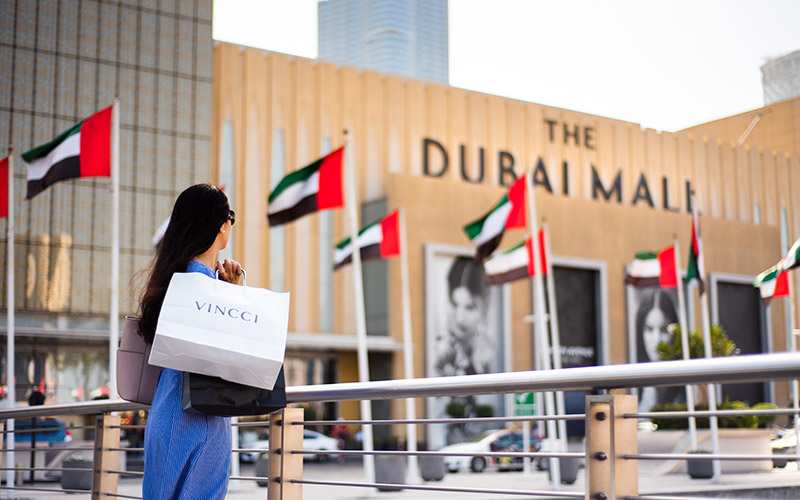 Anyone who lives in Dubai or has ever visited the city would know that there is no dearth of shopping malls here. The best part about these malls is that they are not just for shopping. In fact, the malls of Dubai are teeming with retail stores, restaurants, food courts, and even theme parks. Moreover, most malls in Dubai stay open till late at night (1 or 2 am) during Ramadan.
To avoid crowds, you can visit the malls during the day. However, if you are seeking a fun time, visit during the evenings or nights when these malls host an array of events and activities, including sales, art exhibitions, storytelling events, children's workshops, etc. The Dubai Mall, the Mall of the Emirates, Marina Mall, and Ibn Battuta Mall are some of the must-visit malls in Dubai during Ramadan. You can also visit Global Village to have a good time.
6. Go to an Iftar Party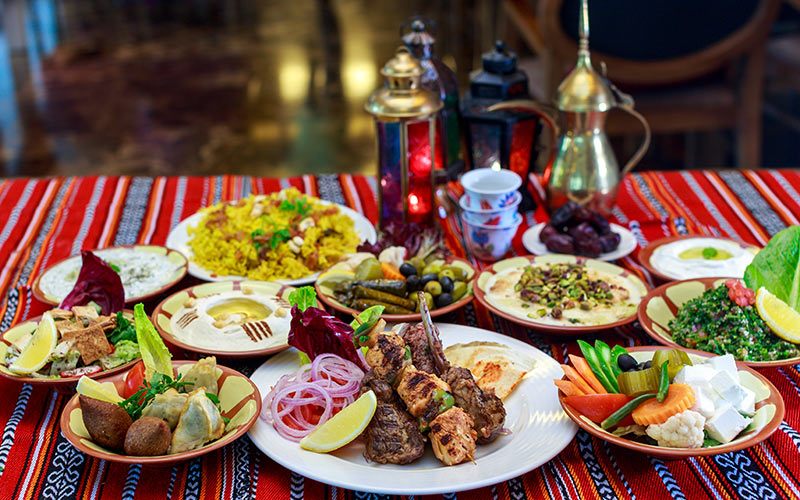 Muslims fast from dawn to dusk during the month of Ramadan. The fast is broken in the evening, just at sunset, with Iftar, a lavish meal that is shared with family and friends. If you are in Dubai this month, you must go to an Iftar party even if you are not fasting. Most hotels and restaurants host Iftar parties every evening, where you can enjoy traditional Arabic and Emirati dishes like lentil soup, sweet potato hummus, rice dishes, slow-cooked lamb, and a large variety of sweets. Some hotels have Ramadan tents, where guests can smoke shisha and play board games while enjoying food.
7. Enjoy Sightseeing
Sightseeing is one of the best things to do in Dubai, as the city is home to some really incredible and cool attractions. The Burj Khalifa (the tallest building in the world), the Palm Jumeirah (the largest island in the world), the Dubai Frame (the tallest photo frame in the world), the Dubai Marina, the Dubai Creek, etc., are a few of the most popular attractions. The best thing about sightseeing in Dubai during Ramadan is that you can avoid large crowds and queues at most of the popular attractions. However, most places' opening and closing timings change during this month. So, it is important to check the timings before visiting them.
8. Indulge in Ramadan Activities
Ramadan is not just about fasting and feasting. It is also the month for introspection and reflection. It is why people indulge in sharing, donating, and volunteering during this time of the year. You can experience Ramadan's true meaning and spirit by participating in these activities. Feeding the poor, providing charity, and becoming part of voluntary work are other reflective things to do during Ramadan in Dubai.
Conclusion
Several people avoid visiting Dubai during Ramadan, as they believe that entertaining activities are cut back or stopped. While this is true in some cases, you can enjoy plenty of other things this month. Moreover, you get to see Dubai in a completely different light when you visit the city in this holy month.