Dubai is a city that has been transformed into a global destination with its massive development and infrastructure built within half a century. One of the biggest events in the world is going to take place in Dubai this year. Due to the worldwide pandemic, it was postponed, but the Dubai Expo 2021 is scheduled from 1st Oct 2021 to 31st Mar 2022. 
What is Dubai Expo 2021? 
Throughout the years, the World Expos have always been global events that are dedicated to sharing top innovations, ground-breaking inventions, and bringing to light resolutions to challenges humanity is facing. They're organized every five years, which last for 6 months.
It's the MEASA region's first-ever Expo, which covers the Middle East and Africa. People from more than 190 countries take part in the event, which will cover a massive 4.38 km in Dubai South, close to the Al Maktoum International Airport.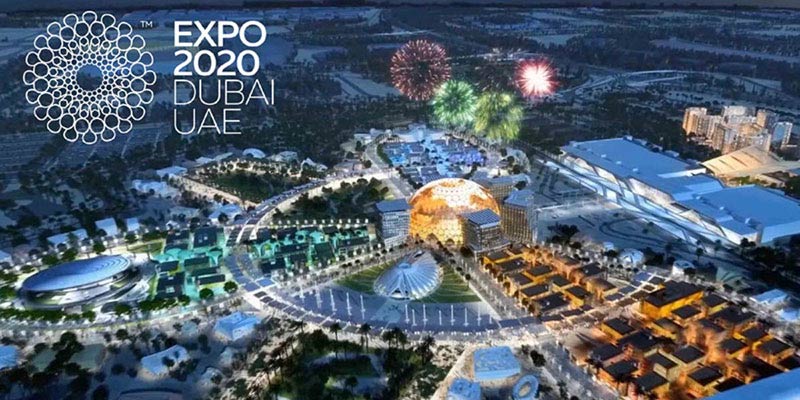 The Theme for Dubai Expo 2021
The theme of the Expo is 'Connecting Minds and Creating the Future'. It aims to inspire people through its sub-themes such as sustainability, opportunity, and mobility. This basically stands for how they educate the world, how they make people understand what's right and wrong and how they connect and unite minds for the future.
Sustainability
The vision for the future is sustainability.
The Earth's resources have been exploited over the years, contributing to global warming.
Sustainability is avoiding natural resources depletion. This is having the ability to produce products for long term use, which ecologically benefits the world and is accessible for all.
The area of focus under this category are governance, financial capital, industries, employment, and education.
 Mobility
Mobility is about movements ranging from an idea to people. The main purpose of this is to connect ideas from different regions of the world and not only a part found exponentially.
The ability to freely move and expand is mobility. Ranging from social to technological mobility, this is where ideas flourish from all sectors geographically.
This is to par the gap from areas that are developed exceedingly and areas that lack assessment using technology and instant ideas.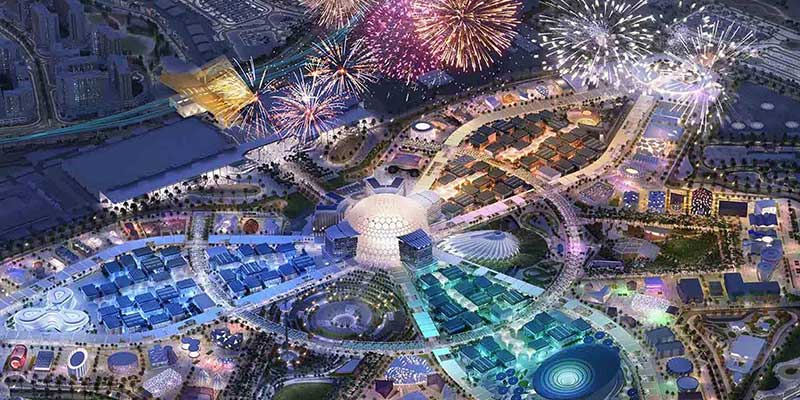 Opportunity
Everyone is worthy to have the opportunity to grow and prosper. This category aims at unlocking the potential in the communities and us for a better future.
Have an opportunity for ideas to prosper. Ideas leading to technologies we all embrace.
The World Expo 2021 will spotlight companies and sectors that serve the purpose under the theme. 
Biggest Attractions
There will be many entertainment activities. The German Pavilion has a band of robots recreating the famous works of Beethoven. Also includes flash mobs, pop theatres, opera, and fabulous creatures at Al Wasl Plaza.
School students' performances in UAE along with stage shows, street festivals, parades, musical events, and concerts.
The 6 months will be covered by 10 theme weeks, viewing the challenges humanity face through cultural, economic, social, and environmental perspectives.
Enjoy innovative experiences at UK Pavilion, inspired by Stephen Hawking and curated by AI, and designed by Es Devlin Studio.
Emirates Pavilion explores mainstream commercial aviation futures, how they will be in 2071.
Humanitarian door corridors, medical supplies delivered to remote places, and best practices globally will be showcased with healthcare innovations.
Activities in arts and culture include installations, workshops, and various performances. Enjoy calligraphy benches with good messages, experience the Sabeel fountains designed for the Expo and Music studio at the Jamaica pavilion
Artwork in shipping containers, inspired by Jamaica's International Reggae Poster Contest held annually.
The Al Wasl Opera offers delightful experiences, fusing local Emirati and the best global talents.
Enjoy scintillating plant-based cuisine, from kebabs to pizzas.
Talabat kitchen has a unique dining experience using robots, a novel cloud kitchen showcasing 30 plus concepts.
The African food hall has the best chefs cooking stunning dishes.
Explore architectural landmarks such as the biggest 360-degree projection in the world, 90 plus unique pavilions, and a futuristic structure of LEED Gold and Platinum covering 200,000 sqm.
The UAE pavilion is a major attraction due to it being falcon-shaped. The designer is Santiago Calatrava.
Belgian Pavilion has an arch themed dome, Assar Architects and Vincent Callebaut Architectures have designed it.
Hammour House showcases the coral reef and a 300-seater stage, with walking through a waterfall. Enter a desert, rainforest, or a miniature world in these national pavilions.
Experience the world's biggest passenger lift at Mobility District which carries 160 individuals.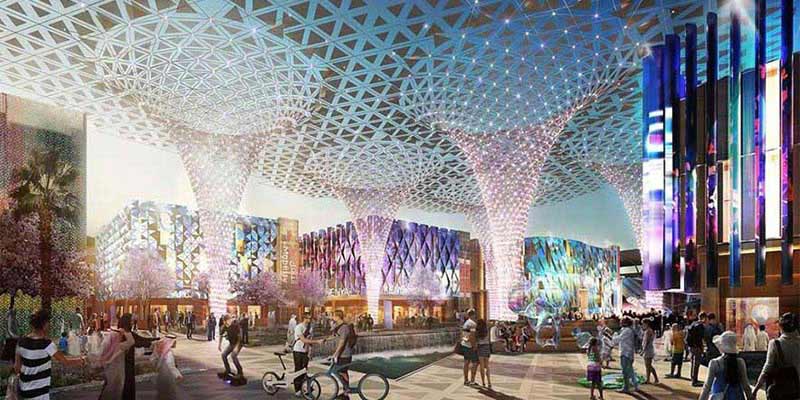 Expo 2020 Tickets
Here is the list of Dubai Expo 2020 tickets you can purchase to visit this grand exhibition:
October pass – INR 2019.99 (AED 95) (Adults 18- 59 years)
Season pass – INR 10,525.23 (AED 495) (Adults)
                          Free (Kids and Youth 6 – 17 years, senior citizen 60+ and students)
Multi-day pass – INR 4,146 (AED 195) (Adults)
                            Free for Kids, youth, and senior citizen
1 day ticket – INR 2,019.99 (AED 95)
                       Free for kids, youth, and senior citizen
Premium experience – INR 37,210.43 (AED1,750)
Conclusion
The world expositions have always had a powerful impact and Dubai Expo is touted to be the biggest and best yet that will take our world into the future.